That's the one I always recommend when people ask. If you want to print colour photos you can always go to the drugstore.
I bought a Brother printer nine years ago (possibly at the recommendation of an article here) and have not once had cause to regret it. It just…works.
I have a Samsung laser printer that's old enough that I'm having to transplant drivers from one computer to the next when I upgrade but I will always recommend people get a laser printer over an inkjet every time. I may look at a Brother when the driver trick stops working entirely but I want duplexing darn it!
Absolutely! I can't say about the newer ones, as I've had my HL-2040 since 2006. Mine can't go wireless, but I don't care. We've been going steady for 17 years and still in love

Joining the choir: I bought a HP(!) Laserjet 1020 about 16 years ago (2007) on clearance for about $60 as I recall. I've replaced the toner in it once. The only downside is that when I looked into connecting it to a wireless print server a couple of years ago it looked like compatibility could be a big issue. I could probably rig something up with a Samba server to work with both Windows & Mac clients, but that seems like a lot of work…
Brother make the least hateful printers. It is known.
I can also attest to the reliability of Brother laser printers. Extremely reliable for the price, and cheap cartridges are abundant.
I also avoid HP sells to the Israeli military and their products are used in the Occupied Palestinian Territories. And Brother printers rock
I thought I had disabled cross-site tracking cookies. How did you know I bought one of these just yesterday?
They're ok but I have to run 28lb paper through mine because it routinely wrinkles 24lb. It's sad what HP has become since the LaserJet 4MV was probably one of the best printers ever constructed.
Brother make the least hateful printers
And there's your marketing campaign.
"Office Space" character reunion!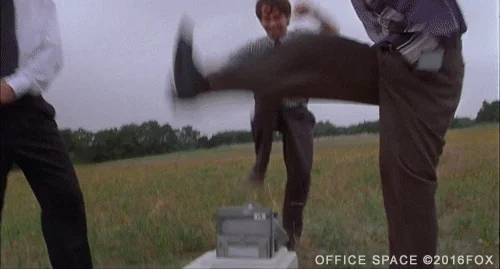 Going to the store to print is a slight inconvenience, but there is no way a home user can print the occasional photo with the same quality and at such a low cost as your local Walmart or CVS. Unless you're printing 8x10's on a daily basis it's not worth trying this at home.
Bought my Brother MFC printer/scanner 15 years ago. Hardly use it, but it still works when I need it (so far).
Still using the original toner cartridge!

Simply wonderful the bit they did at the end of the article, throwing in a chatGPT output with the explicit, announced, intention of boosting the page rank

very astute!
I bought a Brother colour laser in 2013 for less than CAD $100. I didn't actually start using it until just a few years ago, because the printer it was going to replace was a Samsung monochrome laser that just didn't die, and (due to my low print volume) didn't run out of toner. No printer driver/control panel is great, but Samsung and Brother seem to have been competent enough. Together with rock-solid hardware performance, I've been pretty pleased for the past 20 years or so.
I've also had an inkjet in that time, and that was a pretty miserable experience: every time — and I mean EVERY TIME! — I went to print anything, about half a cartridge of ink was expelled to clean the print nozzles, and even then I frequently suffered streaks or missing detail due to clogged nozzles.
Laser: "this is the way."
I've been duplexing on my Brother HL-L3230D for years now. Yes, they do run out of toner. But they will accept even cheap third-party cartridges. (The cheap ones do not seem to do as well as Brother brand ones for even coverage, but for just making some hard copy to look at, even they are fine.)
I guess the bargain-basement models don't have scanners built-in? Not that it matters much, I guess, since you can practically walk down the street and catch someone's falling inkjet printer-scanner as it gets hurled from a window. But it does help to keep desk space requirements down.
If you're only doing occasional scanning something like this works great and stashes in a drawer, plus in general I prefer standalone devices. Fewer ways for a single device to malfunction:
(I think I paid ~$80 when I bought mine a couple of years ago).