For a small fee I'll name a star after you.
For a smaller fee, I'll sell you the coordinates of the telephone pole where I have stapled a drawing of the star that I have named after you.
To be clear, it's the drawing I will name after you, not the actual star.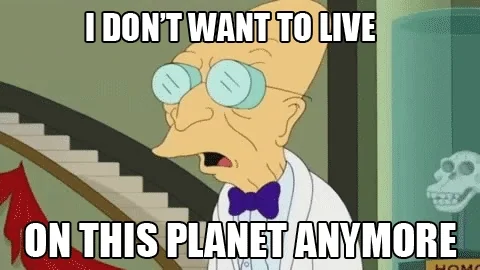 For a small fee I'll name a planet after you.
Do they actually think NFT's work this way? They aren't intellectual property rights. They aren't any kind of property rights. God, all this stuff is so much bullshit! Bullshit built on top of bullshit built on top of bullshit. It's bullshit all the way down!
For a small fee I'll mint an NFT of a picture of bullshit for you
This could be implemented if the particular exchange is configured to support it and the appropriate code were in the NFT payload. But to my knowledge the former is not the case. Hence their indication of plans to make an OpenSea competitor.
I'm sure people will simply be rushing to this new exchange to have to cough up (even greater, color-based) transaction fees to sell their art receipts.
(Also, isn't there some thing in crypto-world about "not having to rely on central authorities"?)
Is that telephone pole on the Moon?
"Anyway who wants to invest in my new NFT platform to privatize letters of the alphabet?"
I just make an NFT of a pixel, so if you want to privatizer letters you'll have to pay royalty to me for the pixels they are made of.
If you own the NFT of #E4E4A8, the Color Museum explains, you would be owed $5738.54 in transaction fees the next time that particular NFT avatar sells.
The owners of the NFTs for #E4E4A7 and #E4E4A9 will probably think "that sucks, could be me". They can only wait until their lucky numbers come up.
Although the real question is: Why would anyone be owed anything because some pixels in a computer graphic are a particular colour? It's not as if an RGB value was something one could "own".
Implementing the code doesn't create property rights.
Even if this statement was remotely true, who do they imagine would be responsible for enforcing those transaction fees?
It's kind of like those novelty deeds people sell for lunar real estate. You can wave a piece of paper that says you own all mineral rights in the Sea of Tranquility but that's not going to make a damn bit of difference if some private space company decides to set up shop there.
By doing this, they claim, the owner of each color will somehow get paid a royalty every time that color is used in someone else's NFT avatar.
This is either an elaborate performance art tr0ll/parody on the cryptocurrency/NFT grifters or an impressive attempt at taking an already ridiculous scam one step further. Or maybe it'll turn out to be both. Who knows these days?
True but also the exact opposite of the core "smart contracts" tenet of the Libertarian techbros behind this tulip mania.
Could be. Can I interest you in an NFT of a sketch of a telephone pole on the Moon or, as we are calling it now, the Mycroft?
You could write it into the code of the NFT itself, I guess. Which is great, because if I "own" (aside: is there a more sarcastic scare quote available?) the color red, #FF0000 (or the number 16711680) and I suddenly start messaging people stating that they owe me money because I own their colors, they'd all tell me to go screw. But if it's in the code itself, that just means that the transaction takes a whole lot longer and is more expensive. I'm sure the cryptobros will rush to switch.
I'll take #000000 and #FFFFFF please
Also, I'd like to sell you these NFTs of each of the individual musical notes, so you can charge a musician every time they use yours.
Can I intrest you in a treble clef? We have a special reduced price on semibreves too!
Neither does minting an NFT, so.