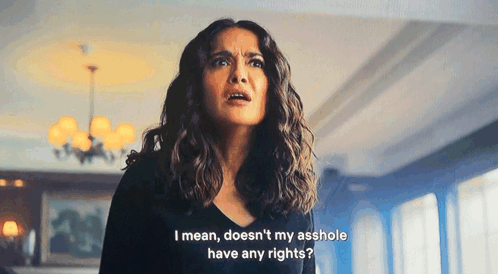 That's a hopeful scenario. But people tend to be pretty accepting of mediocrity.
Something I've noticed lately is that every time there's a discussion on social media around the WGA/SAG strikes, some right-wing asshole (or two or…) is there to tell those "Hollywood libruls" that they can easily be replaced by computers. Which they absolutely can't, of course, but the right-wingers seems to have bought into the "AI" claims with a great deal of credulousness, which is interesting.
"AI" output will always be substantially less than mediocre, though. Right now there's a novelty factor, but no one is actually going to want to watch this shit once that wears off (and the output quality isn't going to fundamentally get any better, given the limitations of the LLM).
AI can replace producers; so reducing workplace abuse.
I think part of the argument is that people have no money to go to the movies because they've all had their jobs replaced, but this gag definitely works on both layers. I tend to agree with you, I think the new AI normal will settle in, and most TV viewing will be autogenerated. There will still be patreon-supported human art, but it'll be a niche luxury.
There are a few ways this can go. Depends, I think, on how the first attempts at AI-written content go. It's a non-zero possibility that it can't be made to not suck and the executive who put it out there becomes a laughing stock. But if it doesn't completely suck, it will seep into all channels much the way reality TV did.
Could end up that human made content will be like theater is today, with a thin top layer of material that is expensive to see (like Broadway), and a lot of smaller, cheaper, local stuff.
Holy crap, "Fatal Lethal Revenge" is out? I loved the prequel, "Deadly Terminal Vengeance", can't wait!

The limitations of the large language model means it might get more coherent but it won't be any better at writing scripts (or similar "AI" systems at performing) because that still requires something like a human intelligence. Which it never can be, because that's not how it works.
… a lot of people have said "no computer will ever do 𝑋," for a lot of different 𝑋es

I'm not saying computers will never do it - I'm saying this particular approach can't do it, because the way it fundamentally works means it doesn't scale up to that. Now, some completely different technology might accomplish it, but it's not something that exists right now, even in a primitive state. That doesn't mean it won't, someday (though I'm not betting on it - certainly not in the foreseeable future).
to combine a couple of topics, if ai is going to take over and go all terminator on us, why are aliens visiting us? their technology is more advanced, so their ai would already have won, and so there'd be no aliens left to go visiting

i'm sure this proves something, but i have no idea what

Or maybe the aliens are AIs and are here to study how those take over. Or…just possibly…there aren't actually aliens visiting us that need explaining. I know, some dude said otherwise, I'm just trying to cover all the bases.
… somebody set up us the bomb?
@gatto dude, you have just made the funniest consecutive two posts I have probably ever seen here, bravo
This topic was automatically closed after 5 days. New replies are no longer allowed.