See how she likes being in a Nepalese jail.
Have climbers put money in a bank find just for this purpose before they can climb. I know there are pretty steep fees for climbers already, so maybe some could go into potential rescue costs?
Not to mention that there are already too many people climbing Everest every year.
Doesn't sound like she broke any laws or voided any contracts. Two people took it upon themselves to pay for her rescue and she's choosing not to reimburse them. That doesn't make her a criminal, it just makes her an asshole.
I wouldn't be too sure of that. There very well guide contracts or local laws for the rescue fee either as a fine or as part of the deal with having permission to make the climb.
There is a wealth of legal and contractual paperwork to fill out to make the climb. According to Grasshopper's link below many operators include rescue and medical insurance obligations.
I agree, if you encounter a person who will die without your assistance and it is within your means to help them then saving them is the right call even if they don't show you proper gratitude afterward.
It sounds like Xie Ruxiagng had a pretty healthy attitude about given the "Saving her is our choice, and expressing gratitude is hers" quote. The climber didn't get their money back, but nor will they have to spend the rest of their life knowing they allowed a fellow climber to die.
Is the rescue fee like a standard schedule? or was Xie just like I'll give the sherpa 10 grand to not let this random woman die? The whole situation sounds strange to me. Like I would think the sherpas would just tell the other folks, sorry we are rescuing this individual, and then the Nepalese government would be like this is the cost of saving your life and reimburse the sherpa? Or is it all very wild west and lawless on Mount Everest? I guess summitting Mount Everest is known to be super risky.
Where I live there are often wilderness rescues that cost the state/county lots of money. Some folks think the people being rescued should be forced to foot the bill. Personally I don't want anyone debating calling for help b/c it might bankrupt them.
See the entire US healthcare system.
They could have made it easy on themselves…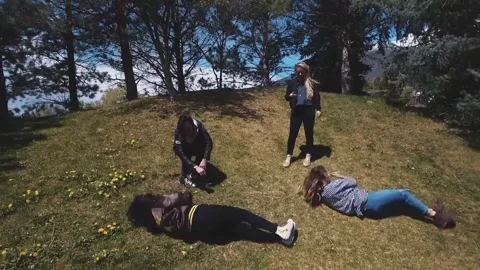 But a very shaky grasp of capitalism.
Mounting a rescue in a place like Mount Everest is an extremely risky (not to mention costly) undertaking, so it's not surprising that it's not a standard service provided by the government given that every person on Mount Everest is there by choice. It's not like there are park rangers stationed all over the summit. The Sherpa who brought the woman to safety was risking his own life to do so.
Above 8000 meters (26000 ft) is known as the "death zone" where there is 40% less oxygen than at sea level. Helicopter rescue is impossible, so what this Sherpa did is really quite rare and unusual. He most definitely risked his own life to save hers. I'd think $10k bucks is worth it as a modicum of gratitude.
The Sherpa (unnamed for some reason) was paid $10k. The two other climbers who assisted in Liu's rescue, Fan and Xie, paid $5k each, but Liu offered them much less.
I really like this idea. It's surprising the Nepalese government hasn't already implemented this; they could collect interest on the deposits while people are climbing. And it might thin the tourist herd in a non-lethal way. Nobody needs to climb Everest.
When I first saw this article I thought it was about this story that was in the news a couple days ago, but sadly no: these are multiple recent instances of rescued people not being that grateful to their sherpa rescuers.
Dang, probably 17 dead so far this year. Time to thin the numbers climbing!
Well, yes. But not so much "time" as "cold and hypoxia".