I suppose a slight buzz might make having the trots more tolerable.
To be fair, there are few things that don't pair well with sparkling wine. It's the perfect anytime drink.
I dunno. McDonald's' problem is that it's way too much fat and salt.
Champaign or California Sparkling Wine?
Me and the missus routinely go to the seaside for our anniversary, and fish-n-chips on the beach with a bottle of champers is usually part of the plan.
Also, the end of popular winesnob flick 'Sideways' (2004) features a treasured bottle of expensive red wine (not melot) being glugged alonside a basic fried chicken bucket.
Bubbles bring out the preservative notes.
Are you starting a California Sparkling Wine 'campagne'?

(Hint: it's champagne and campaign.)
I think that's why people like it…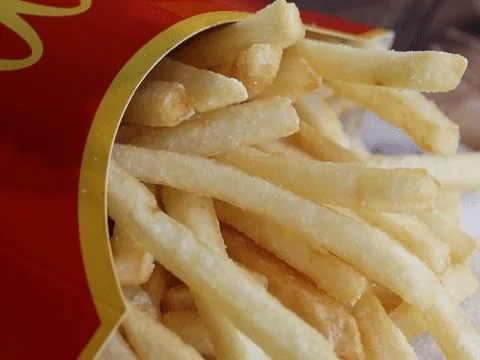 It's only Champaign if it comes from the fertile wine region of Eastern Illinois
I did a c̶h̶a̶m̶p̶a̶g̶n̶e̶ sparkling wine tasting at a winery and the food pairing was potato chips. The salt and fat do go really nicely with some bubbles.
Thi isn't exactly an astounding revelation. Chefs And sommeliers have been combining salty and fatty foods with your wines and champagnes for quite a long time now. I would recommend some thing a little classier than a McDonald's french fry our quarter pounder that's me personally.
I'd go for caper berries, olives and small squares of focaccia, things like that go all too well with prosecco.
White Castle and sparkling wine seems like a deadly combination.
The nicest thing is Champagne will eventually make you forget you are eating shitty food.
In China, the Pizza Hut menus give recommended wine pairings for the pizzas and other items. You can also order a steak.

Well, it does add a little sparkle to the day.
Why settle for Le Big Mac when you can pair it with a…