What's with the little crucifix?
Is this a popegun?
Like the supposed popehammer from another semi-recent thread?
"Sword 9mm" identifies this as being from Romeo+Juliet.
All the guns in the film are named after types of swords. The handguns belonging to Benvolio (SWORD 9mm Series S), Mercutio (DAGGER 9mm) and Tybalt (RAPIER 9mm) are Taurus PT99 9mm Parabellum pistols, identifiable by the adjustable rear sights. The handguns used by Romeo, Sampson and Gregory (DAGGER .45s) are Para-Ordnance P-13 .45 caliber pistols. In the scene where Mercutio is holding Romeo's pistol, it changes to a Para-Ordnance P-14. The other handguns used by Abra and Petruchio are a two-tone and reverse two-tone Beretta 92FS 9mm pistol. Ted Montague's "Longsword" is actually a South African MAG-7 shotgun.
I'd believe that Troy Duffy would mimic. Baz Luhrman, though.
that's it!
thank you! i do remember Leguizamo having a fancy handgun as Mercutio from that movie (this is not it, as noted in the explanation you attached - that's Benvolio's).
How do Ukrainians say the equivalent of "Fuck Around, Find Out…" ?
Speaking of private mercenary armies & their owners, it's been awhile since Eric Prince & Blackwater* have been in the news.
I don't remember the USSR as having gangsters openly running the place.
We didn't either, until Lord Dampnut showed up.
*or whatever TF they are called these days.
Much easier on the knuckles, too.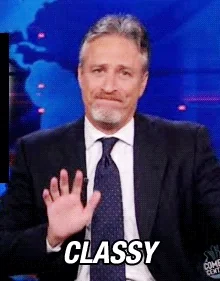 The Revenger's Tragedy would also like a word.
Yes, exactly! Probably should have added the context, but it's a handgun sword from that movie.

Stalin? Beria?
In other news, authorities would like to have a word with Rosencrantz and Guildenstern regarding the shooting.
By far, "gangster" is the most accurate definition of Putin that anyone could assign him, honestly.

Sure, but they were way before my time.
The first one I remember was Khrushchev.
He is the mob boss that Lord Dampnut could only hope to be.
Russia is a Mafia State.
Putin's big claim to good governance is that he solved the problem of organized crime running the show in the 90's. But he accomplished that by simply placing himself at the top of the mafia hierarchy, not by dismantling it. So it's no surprise that hit jobs like the one in the OP are once again becoming popular now that Putin has shown weakness.
More generally, Putin established political and economic stability after the chaos of the 1990s. He made a tacit deal with the Russian people: I give you order, you don't question me. Russians who remembered the 1990s accepted the deal, but younger people who grew up under Putin took stability for granted and didn't believe that they needed to sacrifice anything for it. Now Putin has undermined his position as the guarantor of stability by starting all-out war in Ukraine, leading Western countries to impose economic sanctions and phase out consumption of Russian oil and gas.
Igor Mangushev has reportedly died.
Stalin robbed banks. Putin owns some.