Ugh, that really is awful.
Maybe they found it on this kid's computer?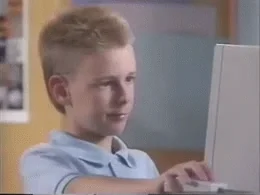 Not the first time he blew it.
Hm. Start with this:


And then check off every single option box on the list.
The bird in the logo is made of cocaine. Maybe from the same batch that's been influencing Musk's decisions.
Whatever's going on here, I can't see this as anything other than an expression of complete contempt for anyone who'd buy the product.
This is what happens when you send an engineer to do a designer's job.
Nice work!

I appreciate that 80s Computer Kid has been deployed successfully twice in the same thread. This made my morning.
This HAS to be sabotage, right? …right?
Self-sabotage maybe. I wouldn't be surprised to learn Elno designed it himself.
If anyone is curious why all '80s media had that same look, yet the actual '80s world was brown brick, orange carpet, and gold railings leftover from the '70s, start your reading here:
It was kind of a rare case of one design studio creating the "look" of an entire decade of popular media because of how influential they were (and how narrow the media pipe used to be). It could be argued that Frog Design had a similar effect on the '90s, but not nearly to the same degree, because the world was already getting bigger very fast.
.
During the current resurgence of '80s nostalgia in media, I've really begun to notice how the content is being created mostly by people who weren't actually there. The product looks like the creator's idea of what the '80s looked like based on the media they've consumed, rather than on personal experience. The only movie I've seen recently that gets the tone right was The Black Phone, and that was set in '78, not even the '80s. Season 4 of Stranger Things gets it mostly right, too. Before that, Freaks and Geeks was mostly spot on - but I would expect it to be, given the age of that set of creators relative to the '80s. Most everything else looks almost like a parody of the '80s, moving the dayglow neon and bad wigs to the foreground.
Too bad we haven't managed to completely banish those yet.
It's basically the 80's meme template that people like to plug "Yikes" into, right? It's a joke logo, following Elon's perception of himsef as some kind of clown prince.
As a recovering graphic designer I can tell you this is some template bullshit, either "created" by E himself, or (my preferred imagining) "designed" as a massive FUCK YOU by whichever remaining underling was tasked with the job.
Kerning? Fuck that. Glowing drop shadows!