As far as station wagons go i think this is one of the better looking ones i've seen
I remember as a kid seeing those Buick wagons with the weird bubble sunroof in the middle, and thinking "well . . . that's an interesting design."
I think that wagon was inspired by the prettiest bus ever to hit the road. I can remember riding on these as a kid, going with my mom to visit the grandparents. Always tried to snag that front row seat in the upper deck.
A Cadillac hearse would be near the same???
For some perspective, it probably weighs about 1,000 pounds less than a Chevy Tahoe, Toyota Land Cruiser, or Ford Expedition MAX, all of which come in just under three tons. It probably got 8-9mpg vs about 15mpg for the Land Cruiser or 17mpg for Ford. Engines got better, but vehicles got heavier. A Toyota Sienna minivan comes in just over two tons and probably gets in the low 20s for mpg.
Now I need to quit googling land yachts and get back to work.
I'm not getting in that - it's a hearse!
Nice try.
Don't be so hard on yourself, you're doing good things!
It seemed to me that the early Mercury Sable station wagon looked nicer than the sedan version.

In this case, I'd still prefer the Eldorado coupe over this conversion.
Come on! I had a friend in college who drove a Hearse. It was pretty cool and so was she!
Had a friend that drove an ice cream truck down in San Diego, he'd use it for surf trips to Rosarita / Porto Nuevo. Good times, kept the beer ice cold too.
PS. We are like a week out before this is a reality…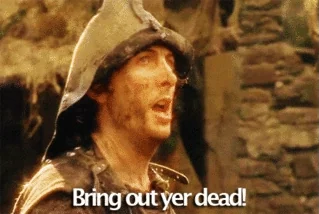 A stationwagon with no rear passenger doors? That's not a stationwagon, really.
Back in the good old days on Jalopnik, there was a long-running argument over whether there was such a thing as a 2- (or 3-)door wagon or whether they were all shooting brakes.
My view is that the 2-door wagon does exist, but it has to be based on a 2-door sedan, like the Volvo Duett or the Chevy Nomad.
On the other hand, as the Eldorado is a coupe, this is a shooting brake like the Volvo P1800ES
I kinda miss the hidden bench seat in the rear of our family's station wagon. It made long family trips more bearable because I could separate from my brothers and have some privacy.
Sometimes my father would lower the back gate and let us jump on and off to deliver our paper route with the papers in the back.
Big fun!
My wife drove her parents' old 1972 Cadillac Coupe de Ville when she was in high school. Unless you've been in one, it's hard to comprehend just how ridiculously huge these land yachts were.
Her folks had an old one car garage on the farm where she kept it. It was so long she couldn't close the garage door when the car was parked inside.
Caddies were often built as hearses, but I never heard of a station wagon conversion. This must have been bigger than any wagon of the era.
And yes, it got about 10 MPG on a good day. If you're looking to contribute to global warming, pick one up!