"more than 22 pounds" someone typed "10kg to lbs" into google

edit: in Gouda (half hour ish train from Amsterdam), we went to a pet shop that had a really big Flemish bunny. Super cute. For a minute I thought this was about that one.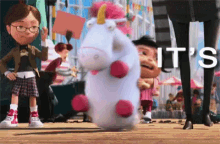 Flemish Giant fact: one of the tricks they used in Teletubbies to disguise the fact that the Teletubby costumes were 10 feet tall was to cast Flemish Giants as the rabbits of Teletubbyland.
Stinky
This topic was automatically closed after 5 days. New replies are no longer allowed.