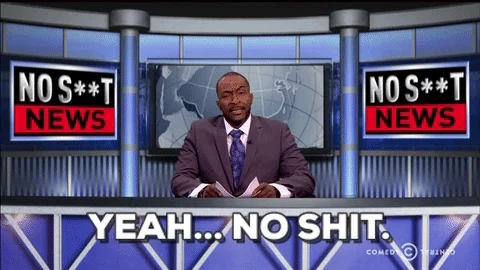 But good news!
Same thoughts.
We all knew it, but seeing a guilty verdict is still very reassuring.
Let's hope it's the first domino, too!
Now the narcissistic grifter will claim he had no idea what was going on in the (now officially criminal) organisation that bears his name and for which, over the past four decades, he presented himself as the final authority on all business decisions. Then he'll fall back on it being "smart" to evade taxes.
In private, of course, much ketchup will be adorning the walls of Mar-a-Lago today.
Maybe a even a fatal stroke or a heart attack could happen…
I can't tell if I should be optimistic or pessimistic on those chances. At this point it really should have happened a long time ago, right?
Call me an optimist:
Nobody lives forever. NOBODY.
You're just trying to put me in a good mood.
As testament to my massive optimism i'll choose to view this as 'good news' (or glad tidings, if you will) in that had the outcome been otherwise, allowing so much as a single charge to be non-guilty, that would have thrilled and somehow energized the usual vile suspects.
I'm really holding out hope for that happening while surrounded by family, in the tRump wing of a federal penitentiary.
Maybe this will help:
(Derailing for the health benefits)
Carry on.
Bad Trump Organization. Bad, bad, BAD.
What a naughty corporation to do something like that. Lucky that no people were involved in the decision-making process, or you could imagine they might face criminal charges.
For some reason I thought the verdict had already come through on this case, and for a second there, I thought it was about how Trump wildly deflated the values of his properties when it came time to pay taxes (and then wildly inflated them when it was time to take out loans)… I'm really bad at keeping all the layers of Trump fraud and criminality separate.
he bizarrely referred to New York's black Attorney General as "peekaboo" when the charges were filed, which just happens to be the autocorrected result of typing an almost identical insult beginning with J
Oh, yikes. I had been wondering where the hell that came from, but Trump is such a weird little guy that I just expect him to say things that don't make any sense. I also wondered about his attack on Mitch McConnell via his wife, calling her "his China loving wife, Coco Chow" (never mind that her family is from Taiwan…), if "coco" was supposed to mean something, or was just a random alliteration with (his racist misspelling of) her last name…
Indeed, it means that maybe, just maybe, the days of the courts going out of their way to let him have his way are coming to an end.
Something interesting.
I wanted to see if he was ranting yet on truth social, up until today I just went to Google and searched for trump truth social posts and his account would be the first result. Today I gave up scrolling after about 100 results, truth social is the first result but unless you have an account you can't search or do anything past the home page. Google is not serving his truth social account anymore.
If I do the same search on duckduckgo, his account is the first result.
He's not ranting yet.