In one of Patrick O'Brian's Aubrey/Maturin novels (The Nutmeg of Consolation?) a crew member is killed trying to defend his friend from pirates. Another crew member says matter-of-factly that the seaman's action was fitting, since he was " a quean" (gay).
Anyone up for some "matelotage"


I like the swash of your buckle

I like the cut of your jib.
Certainly gives new meaning to "walk the plank".
Before accepting the job of First Mate, check the job description.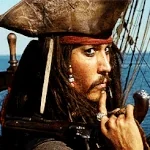 Guess who was growing the sugar and making the rum.
I'll wait.
And a lot of seamen on the decks.
See also the possibly mythical "pirate state" of Libertatia
Blockquote Taika touched on this in an interview and even offered up the pirate word for it, metalotage
That would make a great name for a Pirate metal album.
Rum Sodomy & the Lash II: Metalotage.
"It's all right, Captain. We always knew you were a whoopsie."
Seems like a lot of history goes through a lot of effort to explain away queerness.
There are strange things done in the midnight sun
By the men who moil for gold;
The Arctic trails have their secret tales
That would make your blood run cold;
The Northern Lights have seen queer sights,
But the queerest they ever did see
Was that night on the marge of Lake Lebarge
I cremated Sam McGee.
Note to self: Time to re-watch.
"The plot follows a nonlinear course through time and space. It imagines an alternate history in which Captain James Misson's Libertatia lives on. His way of life is based on The Articles , a general freedom to live as one chooses, without prejudice. The novel is narrated from two different standpoints; one set in the 18th century which follows a group of pirate boys led by Noah Blake, who land in Panama to liberate it. The other is set in the late 20th century, and follows a detective tracing the disappearance of an adolescent boy."