not going to click
eta: been there
eta2: Japan's "Quiet Life" is one of my favourite tracks of all time.
Good for him if that happened.
Not clicking.
There's an Amoeba Music or two in the Bay Area as well.
It's safe to click, honestly. (It's a 20 minute video, FFS!)

I skipped through just to find out what he had to say about Selling England By The Pound
i love that he's an unapologetic fan of both AC/DC and Frank Sinatra.
AC/DC and Frank Sinatra?
–Paging Bill McClintock–
"My Way To Hell"?
There are three different YouTube links in the post, or didn't you notice? [You may be tr*lling…]
I clicked because I love the video and never get tired of it. He's so young and fresh-faced. It's peppy and cheerful. I love it when he smiles in it. And I admire Rick Astley, what I know of him anyway. Happy to give him clicks!
Nah, I'm not living under a bridge.
I was referring to the video that was the subject of the post.
Obviously the Rick Astley text link was a rick-roll - even I could see that!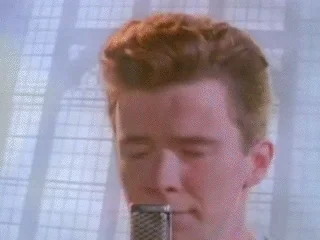 And why not? Music snobbery is dumb. Most people draw the line at "country" but that's dumb too. "I like all kinds of music except Country," is a cliché at this point, from how much people say it. There's a ton of excellent country/western music and people are missing out by being classist dicks about it.
right! And we shouldn't denigrate people who like country music. For those who like country music, to denigrate means to put down. (This was a Bob Newhart joke, I think.)
Newhart- what a gem.
My criticism was aimed at myself as well. I used to turn my nose up at metal because I didn't see myself in the people who are really into metal. What got my attention was learning that the lead singer of Iron Maiden is a classically trained opera singer and that he sees the band as satire. That was all so interesting that I realized I'm missing a boat here. I started listening and it was a slippery slope from there to Finnish symphonic power metal like Sonata Arctica and Dragonforce (technically British, but they get a pass).
A whole world of amazing (frankly superhuman) talent opened up because I got over myself for five minutes.
Same here. Is this a reverse Rickroll?
it's not snobbery, just a matter of preference. i think rap has replaced country in that phrase anyway. i hear more people saying they "like all music except rap" now. i have no issues with rap personally, but it's not my main musical diet. i personally split the line between "modern country" and country circa the 1960s (or even the 1970s) and earlier – i don't like the modern, stadium-like country as much. gimme patsy cline or kitty wells any day.
I've been rickrolled enough. Tell me why I should trust you, internet stranger?
/s


You're right.
I was told that there are only two types of music - stuff you like and stuff you don't.

"We're no strangers … "
"… to love…"
okay, okay!
(still not clicking)