All the guest hosts have been great so far… each has brought their own style to the table… It's hard to pick a fave, but she did great last night… it probably helps that she's hosted a show in that format before too…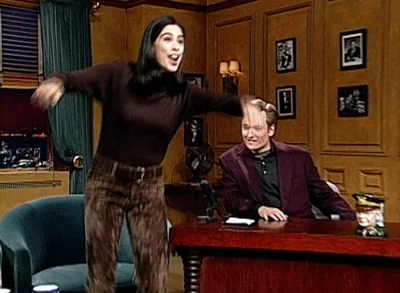 I love Sarah Silverman, her biting style of humor would be perfect for the show.
I have thoroughly enjoyed the rotation, It is probably logisitcally exhausting to keep booking guest-stars, but I think I prefer it that ways. They should actually go full "with special guest, Lauren Lapkis" the podcast where every episode the guest makes up their own show name and format, and Lauren has to improvise being a guest on that show.
She was great. Chelsea Handler was great too, even better than I expected.
I had no idea that the Daily Show was doing this rotating host thing. Now I'm going to go back and see who I might have missed.
I do expect they can find 50-ish good comics who would love a shot to run the legendary Daily Show for a week.
For example, if Patton Oswalt took a shot I would absolutely geek out. Or Hannibal Burress. Or for that matter, Conan O'Brien in a news format. Or Bill Hader, or Paul Rudd.
Wonder if they will bring back hosts from cancelled shows?
Sarah isn't/wasn't my cup of organically grown tea. I enjoyed Chelsea more. I think it's because I keep expecting it to be Jon's show.
Edit - Just saw the list - Al Franken is there. I'm pretty excited for that one.
Leslie Jones (Jan 17-19), Wanda Sykes (Jan 23-26), D.L. Hughley (Jan 30-Feb 2), Chelsea Handler (Feb 6-9, Sarah Silverman (Feb 13-16), Hasan Minhaj (February 27–March 1), Marlon Wayans (March 6–9), Kal Penn (March 13–16), Al Franken (March 20–23), and John Leguizamo (March 27–30).
Sarah Silverman isn't a guaranteed funny(for me) but she is very good.
I know Roy Wood Jr. has said he doesn't want the gig but I think he would be awesome.
Roy and Kathleen Madigan are the only two stand ups I'd pay to see right now. I wouldn't go because I'm still hiding under the bed from covid but in the before times I'd be at the front table.
Al Franken should be good.
I'd love to see Aisha Tyler. I've been a huge fan of hers since her time being the host of Talk Soup on E!. She's definitely got hosting and satirical comedy experience.
Only seen her on WLIIA but she'd work for me.
I'm glad they have a variety of people in the chair. I hope they find someone who can do it well as I wouldn't mind watching it again someday.
I love everything Lauren Lapkus!
Good line up.
I doubt he would be interested but I'd like to see Craig Kilborn come back for just a couple for old times' sake. Stewart turned what had been parody into something earnest, but news shows and anchors have only gotten more ridiculous in the years since, and would be ripe for picking.
Full video of that interview. It's a classic. Spoiler alter: it's hilarious. I love her. I think Kurt Vonnegut's the guest on the couch.
Nice find!
Hope you're well!
I am well, thanks! I found that video a few months ago. I couldn't believe you posted that gif. Search youtube with term "sarah silverman early standup". It's a goldmine.
Leslie Jones gets my vote for permanent host. Of course we haven't seen all the candidates yet, so…
This topic was automatically closed after 5 days. New replies are no longer allowed.