I'm curious to see how this works as a series…
Also, I'll watch anything with Giancarlo Esposito…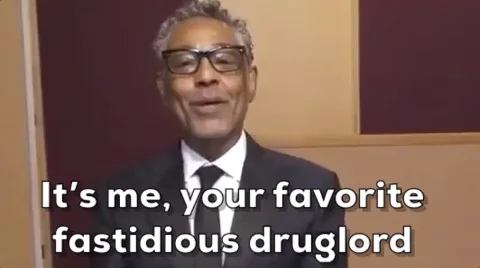 This sort of thing is the focus of a number of full motion video games by Sam Barlow - Her Story and Immortality being two good examples. If non-linear story telling is intriguing you might want to give them a look too
It's a fascinating concept, and I'm really curious to see how it works. That said, seems more like a gimmick than a revolutionary concept. I can't say I've ever before been watching a show and said to myself, "I really wish I could randomly choose a different order to watch this in and have it work."
It's been done before with books more than once. I could see how it'd be just as doable with a tight script and a good director on a screen.
Then you would never make it as a Fox Television executive!
Oh, wait, you said "and have it work"
Still wouldn't make it
You can watch the episodes of anything on Netflix in any order you want.
Wait. So if I watch an episode of Kimmy Schmidt, then an episode of Umbrella Academy, then another Kimmy Schmidt…I was actually watching a Kimmy Schmidt/Umbrella Academy crossover arc?
Mind. Blown.
This used to be normal until tv shows started doing longer story arcs. There are certainly exceptions, but really most shows from the 50s, 60s, 70s, maybe with the exception of the pilot and if the show added a character and it really mattered. For example MASH, with so many character changes, you could watch in any order and except for the finale what would it matter. One commander or another, one doctor or another, there's only minimal reference to a narrative outside of eternal repetitive meatball surgery. Star Trek, Leave it to Beaverand their ilk, they were all just entirely episodic (IIRC!)
Heck, even for The Prisoner no one can agree on the proper order, so does it really need one?
Memento was weird enough for me, thank you very much.
Not sure I need ten hours of it.
The clever new bit here is that Netflix is leveraging the technology. They are literally serving the episodes to each of us in a different order. Your #1 won't be my #1.
I think this is super interesting. I love heist movies, and this is a great cast, so I'm a hard yes.
I hope that they catch his good side.
read post You this it order any doesn't it's can mean too, enjoyable. this in but
Really, the best death scene in all of TV history… Truly amazeballs.
Yeah, I'm still bitter about that, too.
This topic was automatically closed after 5 days. New replies are no longer allowed.