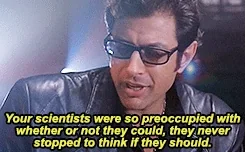 So you've resurrected a mammoth. Now where is it going to live?
In many cases the biggest problem isn't that an animal is extinct. It's that the environment it needs to live in has ceased to be, which led to the extinction in the first place.
There's actually a pretty good answer for that one.
Think of all the sweaters!
I'm trying to imagine a scenario where lots of stomping around and pooping on the tundra isn't going to warm it up and release the greenhouse gasses.
But more importantly (maybe) is do we have a BIG blue elephant gun?!
Considering the ivory poaching that goes on, I'm wondering if they're going to try for those huge tusks mammoths had, or if they're going to leave them out to avoid the species going extinct again.
No more than any other megafauna. Few environmentalists advocate killing off the remaining elephants to combat climate change.
Remember, it's likely that the only reason these critters died off in the first place is because our ancestors ate them.
"Maaaaaa, buy me a woolly mammoth!"
"You already have elephants at home you don't take care of."
Maybe - but only after loss of environment and probably things like lower birth rates than other animals severely lowered their numbers. There are a bunch of large mammals in North America, like Bison and Moose, which still thrived despite being hunted by indigenous peoples.
And there are a bunch that went extinct soon after humans arrived on the scene too. Human predation may not be the only factor but it was likely a major one.
" The team believes they can produce mammoth-like elephants by editing elephant DNA, "adding genes for mammoth traits like dense hair and thick fat for withstanding cold."
So, not a mammoth.
Okay- but you have to bring back Neanderthals to hunt them.
What could possibly go wrong?
"But I don't want to cure cancer! I just want to have woolly mammoths walking around!"
That's not a problem. Those white supremacists are quite proud of their Neanderthal genes – take away their guns and cammo, force them to make their own spears and hunt in their underwear.
Go Mammoths!
Coincidence! Those humans were like neolithic Jessica Fletchers, with megafauna mysteriously dropping dead every week.
Mmmmm one Mammoth burger with cheese to go, please.

" […] geoengineer the Arctic environment using a heard of mammoths […] "
Pretty sure that won't work.
"Why would you want to do that?"
"We got fifteen million dollars. Isn't that reason enough?"
She was much more dismissive on the radio.