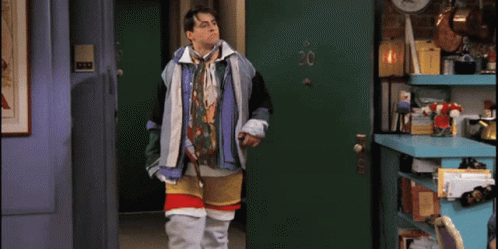 I did this once. Not all the clothes, but I did wear a few T-shirts, tied a hoodie around my waist while wearing another one to desperately get a case juuuuust below the weight limit.
Years ago at Heathrow I saw a guy checking in for a flight to Nepal wearing his climbing gear, including rope and crampons.
They definitely pushed things, but the fine is BS. Especially since the scales are probably as rigged as the luggage sizers.
I stopped reading after TikToker… nope! nope nope nope!
Reboing (I'm kidding, from December 1975.)
https://www.madcoversite.com/mad179-12.html
+1 for Airplane clip; -1 for TikTok.
I immediately thought of that MAD bit as well.
I once started to put on my wetsuit at a checkin counter when my bike box (which had all my triathlon gear in it as well) was considered overweight. The checkin staff laughed at the attempt and let me off.
Fined for what exactly? If her luggage was under the required weight then it doesn't seem like she did anything but act like an ass.
It's not about beating the bag fees, It's about getting clicks.
Which she did.
It's been done before, with equally disastrous results.
Not a fine at all. Jetstar include a 7kg cabin baggage allowance for domestic flights. You can take extra, but you have to pay for it. Often the staff don't weigh your stuff, but sometimes they do, and if you're over, then you have to pay the fee as these two did

And the scales aren't rigged.
I used to have a ScotteVest jacket and would do pretty much this every time I travelled.
And a friend that owns a record store would put as many records as he could in his backpack to avoid the luggage fees. Quite a common practice I think.
But then I've also never seen a carry-on-bag scale - which should prolly be banned anyway. People weight varying amounts and it hardly seems fair if an obese person get on with the same fare I paid, but I get fined because I have heavy pockets.
This topic was automatically closed after 5 days. New replies are no longer allowed.