I can see why they'd ban these additives, but c'mon! titanium dioxide? It sounds so wholesome!
Titanium dioxide will assimilate all. Resistance is rutile.
Evidence suggests otherwise. Maybe run this by Sarah Sanders too? Or any GOP politician for that matter.
Does this include Very Berry gumballs and Painterz gumballs from the dollar store? Because those are my favorite gums.
Ingredients: Sugar, Dextrose, Corn Syrup, Gum Base, Gum Arabic, Tapioca Dextrin, Citric Acid, Titanium Dioxide, Confectioners Glaze, Carnauba Wax, Artificial Flavors, Artificial Colors, (FD & C Red 40, Blue 1, Yellow 5), Corn Starch, BHT (To Maintain Freshness).
Berry Blast Dubble Bubble Gum Balls 1" 1 lb 453g about 55 gumballs - Boyd's Retro Candy Store Store
Ingredients: Sugar, dextrose, corn syrup (glucose), gum base, tapioca dextrin, confectioners glaze, carnauba wax, cor[n] starch, artificial flavors, artificial colors (FD&C red 40, blue 1, yellow 5, yellow 6), BHT (to maintain freshness).
Dubble Bubble Painterz Mouth Coloring Bubble Gum - Tub of 240 - All City Candy
so one out of two. though i can't imagine it's hard for them to reconfigure the formula. it'll just shave some pennies off their profits.
( and it doesnt sound like bht is banned in the bill. it's much more restricted outside the us though, so … good luck! )
It's a good thing if these additives actually are causing harm, but does anybody know if this policy is properly evidence based? "Linked to" can be quite a dodgy term.
It's the precautionary principle, which is common in EU lawmaking, but basically unheard of in the US (except in California). Why shouldn't it be on the people who introduce these things into the food supply to prove they're safe?
But it is also often the best you can do because you can't do randomized control trials for these things. (and other techniques like models of affected pathways aren't available)
Yeah that's why I'm asking. "Linked to" could mean that a correlation was found by a single study on a small group of people, who had a bunch of other lifestyle factors which could easily account for it, or it could mean that, based on a study of lab mice, there's a chance this stuff could give you cancer if you ate the equivalent of 20 kilos of it a day, but it could also mean that a series of high quality studies that account for other lifestyle factors have found that a kid who eats skittles every day is very likely to get cancer younger and have attention and hyperactivity problems.
I would like to know which. If it's closer to the third option, then yay. I approve. If, on the other hand, it's down to some group of fear-mongering "wellness" grifters who like to campaign to get stuff banned because it helps them sell shit to idiots, then boo, fuck you California.
With the push for reducing additives to foods I never understood why food coloring wasn't the first thing to go. Does it really matter if your Gatorade is red when it's fruit punch? Sure, it's easier to pick things when they are color codes, but if it doesn't effect the taste it just seems like something that's not needed.
You taste with your brain, so it really does affect the taste to a considerable degree. You can prove this to yourself by just getting someone else to feed you different flavoured sweets (that's candy if you're American :D) with your eyes shut.
The bright red colour enhances the whole aesthetic experience, and there's no real reason to remove it unless it actually is harmful in some way. If it is harmful, then sure, remove it or replace it, but it's not inherently bad just because it's artificial/chemical, which are somewhat arbitrary and unobjective categories anyway.
A cousin of mine once pointed out to me, ages ago, that titanium dioxide tends to get added to, e.g., yogurt pretzel coating just to make it look more white. Nothing of great value is being lost here
How to Cook That has a pretty interesting video on the history of food color additives. It also includes a section about what is allowed in EU vs USA
I'm only going to partially agree with that. Things like Nerds or Mt. Dew have no real precedence of what they should taste like. I agree that changing the formula may make the taste change slightly and that is possibly noticeable by regular consumers, but I don't believe there is a default taste for any of these artificial foods. I think the old school partially hydronated peanut butter JIF taste better than anything today. Now is there any truth in that, or is it just good old rosy nostalgia? There are people who tell me they can taste the difference in caffeine free soda (not diet)…I doubt I could in a blind taste test. If I never had ripe tide rush Gatorade would it matter if it was blue or clear?
I know what you are saying. Take a look at cocktail cherries:


An organic version is typically dark red because the coloring is derived from beets (or other food stock), while those bright red ones on the right are colored with red40. From a purely visual aspect the bright red ones look more appetizing than the dark red ones.
The dark red looks more appealing to me personally. Maybe in part because I've gotten used to those expensive ones (the luxardo cost like 20 bucks a jar) that taste way better. In general I associate overly bright colors with sugar sweetness and less with actual flavor.
Because that's UN-AMERICAN, AND I DEMAND TO BE POISONED BY MY FOOD! /sarcasm
(see also the "swill milk" scandal from the 1850s.)
100% agree with the dark red cherries being more appetizing, as the best cherries I ate consitently were in Italy, and tended to this color:

As for the beet being the colorant for the cocktail cherries, I guess it's because having organic and vegetarian/vegan opens more doors than if you used cocineal…
I dunno, a diet of Skittles seems to have worked for Beast Mode: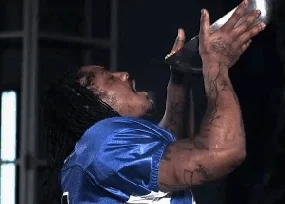 This topic was automatically closed after 5 days. New replies are no longer allowed.