If I stop feeding them will they die? I don't need that stress!!!
Oh, way to remind me I haven't fed my virtual fish on Facebook for over 13 years!!
My Farmville plot is likely choked with weeds and covered with small trees by now.
I just checked. My farm was seized via imminent domain and there is now a multi-lane highway running over it. Not much traffic though, just a green dinosaur and an Italian plumber in cars that don't meet MOT standards I'm sure.
Not as relaxing as I had expected. I found myself dropping more and more food, trying to make sure each fish got something…
Tell people you're rewilding, you'll be fine.
Isn't "no-mow May" coming up soon?
Do they have one of feeding bread to flying toasters?
Do you think you can overfeed them?

I'm sure they are content to take one BYTE at a time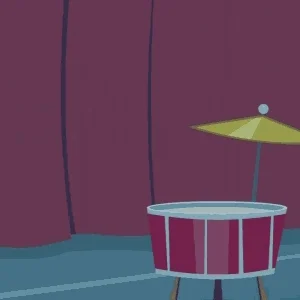 JHC, look out a window, light a candle, pet a dog, smile at a child, listen to some Eno… but this?
Go do one now, dude, you seem stressed.
Our longest and biggest customer for 30 years had a koi pond.
We've become friends and we're his goto people for odd jobs or jobs he can't trust anyone else with.
We're responsible for taking care of their house for the winter while they go south. They're koi pond fish got brought inside for the winter, we took care of them for many years feeding them and cleaning the tank filters.
A few years ago there was a new edition, a baby fish that we had to be extra careful with. It was black and blended in with the tank. Every time we went over we really had to look to find it and make sure it was alright.
Lots of stress keeping 7 large fish and a baby alive for the winter.
One year they came back and I talked to his wife a couple weeks after they got back. I asked if the fish were safely back in the pond.
Yup, except for baby that got sucked up in the filter and didn't make it. My wife was sad.
They no longer have the fish because they're too much work for them. We missed babysitting them this year.
This topic was automatically closed after 5 days. New replies are no longer allowed.