Weird! I guess that this is a combination of milking the property plus bumping up the copyright period by a few years. The character design in the original film is going to be difficult to top in live action.
Not how copyright works, at best it might buy them some kind of extension on a trademark.
But the original animated film is going to be under copyright for a long, long time so I doubt the Disney people are thinking that far ahead since they'll be long retired or dead. It's about making money now.
Have any of the live action remakes beaten their animated inspirations? I just don't get why we need this. I've not seen one I would watch or enjoy over the original. And some just make me irrationally angry that they exist (Aladdin).
Christopher Walken as King Louie was definitely…interesting. I wouldn't say it's better than the original, but it's its own artistic interpretation.
You know, I would say that of all of them, the Jungle Book was the most interesting. And, at least, it's been some time since it came out. Moana isn't even a decade old.
It's strange to me that this one is coming out so soon after the original release. It hasn't even been a decade. This is purely speculation, but I wouldn't be surprised if this was pushed by the Rock because he desperately needs a win after his last film's underperformance. Maybe someone can correct me here, but I don't think other production studios have ever been involved in Disney's other remakes. Probably helped sell the project when the Rock offered to foot part of the bill.
Has he been growing his hair out, or will we get a wig?
Paint his head green and CGI?
I wonder how long until they release an animation and it's live action version, concurrently?
Maybe in some alternate universe there's a version of Mary Poppins where the penguin waiters and cartoon jockeys are real but all the main characters are cartoons.
Soo what are the odds they only keep the famous male sidekick as the original cast, and recast Auliʻi Cravalho who brought the main character to life?

I'm looking forward to this, in large part because of who te actors are involved with this. A polynesian-inspired story starring polynesian actors where the first screenplay treatment was written by a Maori? Yes please.
Nope, she's in:
Dwayne may have just spoken about himself, but the tweet specifically mentions Auli'i.
ETA: She's now confirmed it on her instagram, as well.
I still don't like the idea of this remake but as long as they're going on I hope they get Rachel House (best known for her roles in Taika Waititi's Hunt for the Wilderpeople and Thor: Ragnarok) to reprise her role as Gramma Tala. She was one of the cast members who was able to perform her role in both the original English release as well as the Maori dub.
Well that's great news!
Now can we get Alan Tudyk in a chicken suit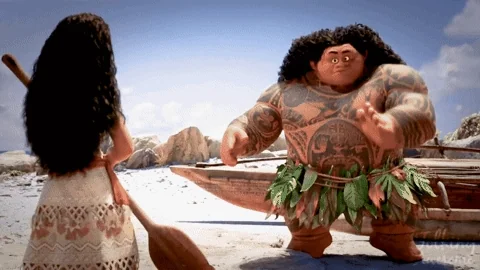 This topic was automatically closed after 5 days. New replies are no longer allowed.