Do some animals have pretty privilege?
Amongst themselves?
It's not prettiness that matters - it's charisma.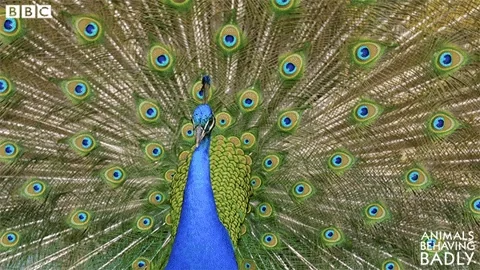 "Eyes are up here!"
I recently learned a new fun fact about peacocks; apparently the little dances they do with their tail feathers create low-frequency sound waves that are inaudible to humans but are basically a mating song for the peahens. So it's a performance for the ears as well as the eyes!
I think one of the more pertinent questions is:
Did humans breed cuteness into their pets, or did they develop the cute gene themselves over time, in order to wrap us around their little digits?
I'm guessing that this is a rhetorical question.
Nice moves, disco chicken.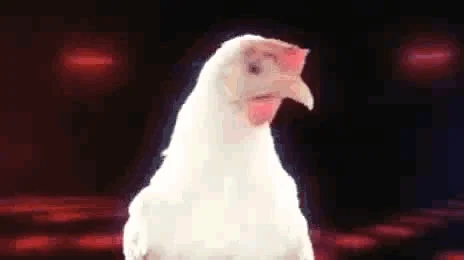 Checks D&D books to see what cats and dogs have in the CHA stat to see if I can confirm this…
Oh that's not what you meant.
When I was in 7th grade and obsessed with becoming a dinosaur paleontologist, I was reading a prominent paleontologist talking about infant dinosaur fossils–and what we could infer from them. This was the early 90's. And that book talked about how baby animals today with "cute" appearances–like oversized eyes and tiny muzzles–tended to be from species that exhibited nesting and parenting behaviors, while species that don't parent (like snakes) tend to have young that just look like miniature adults.
I think Disney studied cuteness in the early days of the studio to see if there were universal traits for cuteness, and the concluded that there were…
And as @umop_apisdn mentioned above, it's hardwired into the design of infants (humans and dogs and cats and cows etc.) to be cute and I'd guess it's hardwired into adult animals to respond to that cuteness with a desire to protect the infant creatures. And it seems likely that that effect is so strong that it works for different species.
I saw an animal documentary a while back where a big cat (I think it was a leopard) killed and ate an adult deer-like creature and then adopted the dead dear-thing's baby dear-thing. It didn't turn out well cos it turns out that big cats know fuck-all about nurturing baby deer.
In any case, I'm a fully grown male human but show me a red panda and I'll loose all my composure.
Men are allowed to find things cute, it's OK.
Vaguely related popular culture question: How many arch fiends are depicted as pretty and/or cute?
(and no fair recalling the lunch table at your high school where you weren't allowed)
(ok ok grimhilde, gaston legume, and mother gothel had their transformed pleasing modes)
that Shere Khan, tho… cutie!
I've heard conservationists say this is a real problem for them because a lot of species that are in danger and are ecologically important are ugly things you can't put on a PSA flyer. It's easy to drum up funding to save polar bears. The naked mole rat? Not so much.
This may be part of why conservation organizations are broad in mission. They can put the red panda on the poster, then use the money to save a dozen obscure beetles that we need but that nobody cares about.