It is the perfect chant for a Trump rally.

The editorial cartoon at the Washington Post shows Ron DeSantis wishing to gain some indictments to bolster his polling numbers.
Seems like his followers are getting a bit fewer and weirder. I think many people have outrage fatigue.
Here's hoping the judges involved grow a spine and charge him with contempt of court before he riles his base into storming the courtroom and lynching them. I'm cautiously optimistic about Trump actually facing consequences, but letting him do this shit with impunity over and over is diminishing that hope rapidly.
Just more projection… and diarrhetic.
Ugh. I watched this and saw January 6 at scale in the making.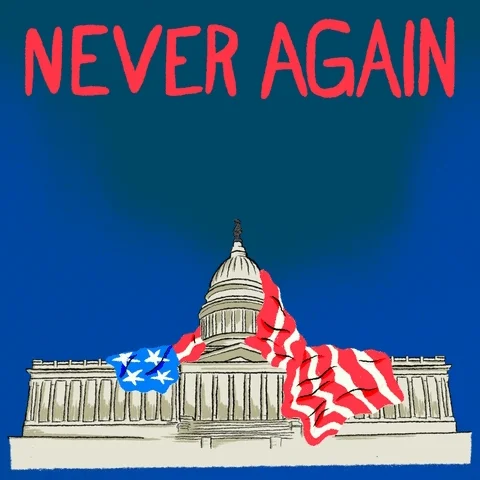 So if Donald Trump is all about the First Amendment, he won't have any problems with Stormy Daniels telling all about her experiences with Trump and his "little Donald" despite them having an NDA? Her free speech Trumps (
) the NDA?
I'm sure former Apprentice candidates would also have plenty to discuss about what happened behind the scenes of the show, and obviously Donald "Second I mean First Amendment" Trump wouldn't object if they ignored any NDA or contracts they had signed.
Those ignorant, servile fucks.
such a golden calf full of such bullshit
NDAs don't apply in a court room if "compelled" to testify.
Trump believes NDAs are for little people. He's a big person, therefore he has a first amendment right to disclose classified information and discovery material.
Sure, Trump has 1st Amendment rights, but why does anyone put up with lies from a US President or Presidential candidate? These same people supporting Trump would likely belt-whip their kids for lying to them the way Trump does.
I'm not ashamed to say it: I can't wait till we can say 'convicted felon DT' but at this rate it's more likely to be 'recently deceased DT' - which I'm also good with.
I've been yelling "Bullshit!" at Trump for years.
"Now we'll be passing around some special punch, and I want everyone to wait until we're all served, then we'll all drink it at the same time."
The expert in bullshit creates even more of it by calling the charges bullshit.
So I'm sure that Trump isn't being at all thoughtful or strategic in his choice of words, but this language may be legally advantageous to him. Penn and Teller used to have a show on Showtime called Penn & Teller: Bullshit!, in which they debunked myths and exposed scams. Supposedly the name for that show was chosen in part because it's harder to sue someone for libel or defamation if they're calling something "bullshit" rather than "lies" or "fraud."