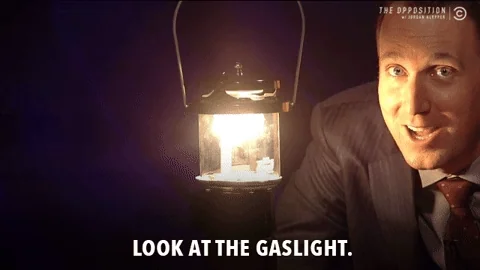 Pleased that the description of the play/movie is accurate here. I have encountered many sources online where they say he dims the house lights specifically to make her think she is going crazy. Hence, gaslighting about Gaslight. (Although unintentionally I should think.)
"Gaslighting"? Isn't that when frat boys set their farts on fire?
To adhere to its original sense there ought to be some aspect of attempting to drive someone insane to gain an advantage. At least thereby to be distinguished from an ordinary flimflam or confidence trickster. That typed, the graveyard of useful words is filled with time. e.g. to "decimate" used to be a relatively, one-tenth, hence the "deci-", level of destruction, now it's utter-and-complete. how often do we see "unique" qualified: "the most unique", "very unique", "uniquer". then there is "literally", "comprised", "nominal" … ah well, it's mostly good that language is allowed to evolve.

Anyone who misuses the term 'begs the question' I will cut out of my life forever.
Conservatives and right-wingers have undoubtedly driven the country into a sort of national derangement with their ever-escalating lying and BSing over the past 40 years.
Please, stop lamp shading that gaslight!
Or even if the attempt at an advantage is the only motivation, the lies ought to have the effect of being confusing or maddening to be an example of gaslighting. The lies should be crazy-making lies.
Your comment begs the question of why you feel that way.

Got to be said - Angela Lansbury both looks and performs spectacularly in the movie.
There is one point about the movie that always comes to mind when reading these descriptions, though:
Part of the deception was making Paula believe she was his wife. Anton was a bigamist, too!
Bonus points for anything from EGS, of course.
Brilliant headline on this article!





And Bergman won an Oscar for Best Actress in the film.