Gene Simmons will say whatever Gene Simmons thinks will get Gene Simmons more press and/or album/book/merchandise sales. This is a "stopped clock" moment, nothing more.
Pretty pro-public-meaures-during-a-pandemic stance, and yet he made an album called UNMASKED makes ya think
You're probably right, but it's surprisingly refreshing to hear somebody who loudly declares "I don't consider myself left-wing OR right-wing" who doesn't immediately follow it up with a list of right-wing opinions.
It's nice to hear from people who are idiots about a variety of things!
Yeah but his band name is KISS and I'm not going near THAT!
Right?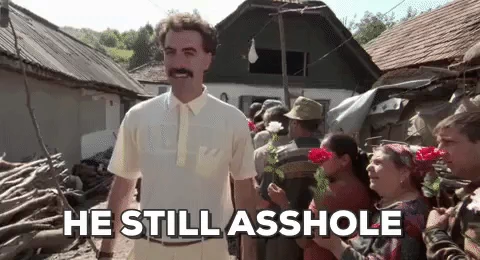 But even there, he looks like he's wearing a Covid-era face mask. Prescient!

This may be the first thing Gene Simmons has done or said that didn't suck.
I agree with the people who basically say it shouldn't be celebrated that someone crappy said something not so crappy. But it's been amusing to see how the right is trying to dismiss his points. Amusing in the way that leaves me aghast, which I suppose is fairly normal these days.
"I can't believe a man who claims to have had sex with 5000 women is telling me to get the jab!" Slut-shaming plus assumptions about safety of his sexual practices.
"This man cried thinking about the horrors his grandmother went through during the Holocaust. Now he thinks we should willingly subject ourselves to this." Because they believe the response to their role in public safety, specifically their choice to not participate in the safety part of it, is reasonably comparable to the genocidal persecution experienced by Jewish Eastern Europeans.
He has a good point with the red light analogy. It reminds me of an old joke about stoplights, which I will paraphrase here:
I went walking with a friend at the mall the other day, and after we walked by the security at the door, he pulled his mask down below his chin.
'Dude! What are you doing?'
"Don't worry; my brother and I do this all the time."
He pulled his mask back up when we got to the Food Court, since there were some cops eating lunch there, but as soon as we turned the corner, he pulled his mask down again.
"Seriously?"
"Don't worry, I said my brother and I do this all the time."
When we started to get close to Cheesecake Factory, though, my friend started getting nervous. He stopped, opened up his backpack, and pulled out a full hazmat suit, then proceeded to put it on.
"What gives?"
"My brother likes to eat at the Cheesecake Factory!"
Gene Simmons may be a marginally talented, grade A asshole — but at least he's right about this. Stopped clocks and all that.
This topic was automatically closed after 5 days. New replies are no longer allowed.