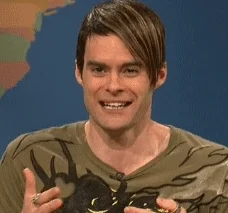 $35?!?
Yeah, these custom items like that, usually out of a resin, often command a decent price. Partly because they are done one at a time and take more effort to make. Partly because they are sold as "art" items, and not competing at price point with real licensed stuff (though this would be considered parody.)
Usually, I like creative mashups where you mix up Star Wars with something else. And while I mainly collect Boba Fett, I do get Han in Carbonites, as it is sort of his accessory or prize. But, uh, I'd pass in this instance.
They couldn't freeze him sitting on a toilet?
"Die when you die when you die you're gonna die." – GG Allin
Can we be sure that's carbonite?
No, it's poop, Allin poop.
I didn't want to assume it was ok to be explicit on BB.
Also, if people REALLY need to see GG Allin's wang, it's not hard to find a picture of it…
I've personally seen enough for a lifetime.
Jaysus, right? Once is more than enough for several lifetimes…
But anyways, here is the MRR with a dead GG on the cover (and a couple of remembrances)…
Nicer than the obit than Tim Yohannon gave Bill Graham in 1991…
On my Boing Boing bingo card this story just needs a banana and a reference to Disneyland
Not a bad score, but really it'd need to double up as a whetstone to be perfect.
This topic was automatically closed after 5 days. New replies are no longer allowed.