I am frantically animating right now to beat everyone else to market with this adorable cartoon! I'm thinking Jon Benjamin as the gorilla and I'm hoping for Laura Petty as the groundhog.
Kindness is universal. Now read that again.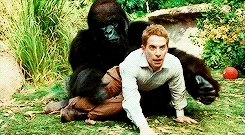 Nice little primate! Let me pet you!
Gorillas are awesome. I love our giant cousins.
i must note that the groundhog apparently had no fear of the gorilla, but most likely under no circumstances would allow a human to get that close.
Waiting for the companion video that shows that – while the gorilla was distracted – the other groundhogs were in his sleeping pen smoking his weed and rifling through his stuff.
Gorillas are so close to us that we should not be too surprised that like us, their parenting behaviors can be triggered by other species.
Hey! I've been reading it for over 11 hours now! When can I stop?!
I'm assuming that a gorilla sees the groundhog as no threat, and being a herbivore it doesn't want to eat it either.
I am also assuming that gorillas are pretty relaxed in the wild, if left alone.
well, i'm thinking more about the perspective of the groundhog. i'm willing to be that if it was a human coming close, it would flee, but the gorilla doesn't seem to frighten it in the same way.
This topic was automatically closed after 5 days. New replies are no longer allowed.