When I was a kid, I used to sometimes go with my aunt and uncle to see the races locally. my favorite nights were always the nights they had the demolition derbys…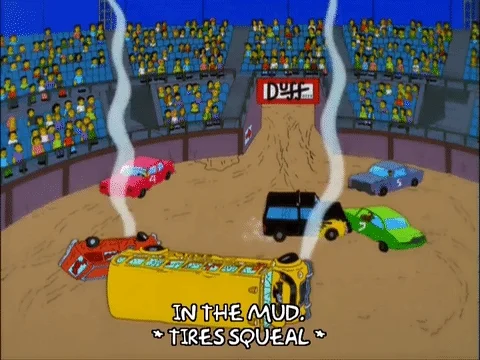 It was probably terrible for the environment, tho.
Making sure they stay crushed is the trick.

In California cars built before 1976 are currently exempt from smog checks, but the state had a program in the 90's where they would pay $800 to take your old smog-exempt car and crush it into a cube to get it off the road forever. There was a commercial advertising it at the time where they showed a pristine-looking classic car (maybe a Mustang?) getting crushed, which was just super painful to watch.
I distinctly remember that program because I was driving a 1960 Ford Falcon at the time that only cost $600. Could have turned it in for a small profit, but didn't have the stomach for it. But the car is converted to run on propane now so smog isn't as big of an issue anymore.
That car you paid $30,000 for, treated like a baby, kept clean and no scratches, parked far from anyone else… CRUNCH !!!
I admit to complete ignorance. Would somebody please explain what the point is of cubing a car? Other than saving space in the junkyard. "Salvage yard" suggests reclaiming all reusable components of a car, so they can be be reused somehow. It seems to me that when a car goes into the crusher it contains gobs of plastic, glass, toxic metals, printed circuit boards, rubber hoses, and a million other things that all get mashed together. How can you reclaim anything from such a mess? Can you really melt the block and distill usable metal from all the other junk? And what happens to the other junk? For that matter what of the vapors given off as stuff is melted or vaporized? A lot of that would be toxic, right? I call this the Oddjob Question.
A lot of salvage yards like the "Pick Your Part" chain park cars in a big lot for a month or two where the general public can go in with their tools and try to find the part they need for much cheaper than a new part would cost. I've gotten many a cheap car component off of a wreck from my local salvage yard. Some of the easy-to-remove components like the wheels are taken off by the workers at the yard. After they've been picked over a bit they get crushed and transported to a facility like this where the car is shredded and a series of processes like magnets, blowers, and even some hand sorting is used to separate the various materials for recycling.
This topic was automatically closed after 5 days. New replies are no longer allowed.