I'm surprised they could pull enough juice from USB to run the motor. Very clever
How's a dust cover supposed to fit over this monstrosity? And why so thick? Pretty much guaranteed it's mostly empty space in there - can't imagine that will be good for vibrations.
price?

is it all plastic?

pitch control? stability?

belt drive or direct?
I don't have a lot of hope for this actually being a high end player, but maybe it's a decent upgrade from the cheapo Crosleys the kids are buying (sign in a local record shop "Friends Don't Let Friends Buy Crosleys.")
At least it appears to have a magnetic cart. Most of the modern Crosley style ones have those ceramic carts that sound like you're playing your music through a tin can phone. Right now I think about the best deal for a good turntable is the AT-LP120 and those run about 300 bucks. I think there's definitely a market for a cheap consumer model that actual uses a cartridge that sounds good. Even if the construction isn't amazing, that would be a big deal.
Interesting how a lot of good newer turntables are all ripping off the classic Technics 1200 design.
I have a 1200, but I also have a pretty good Gemini and a Numark, both of which are solid. I got those latter two cheap at thrift stores and while they have some problems they are still solid and reliable.
The John Peel impression is quite good.
From the top it doesn't look like it has the stock mechanism that ends up in all cheap record players these days.
But there are variations of that that look fancier and use better carts.
I want to see the assembly instructions for this one!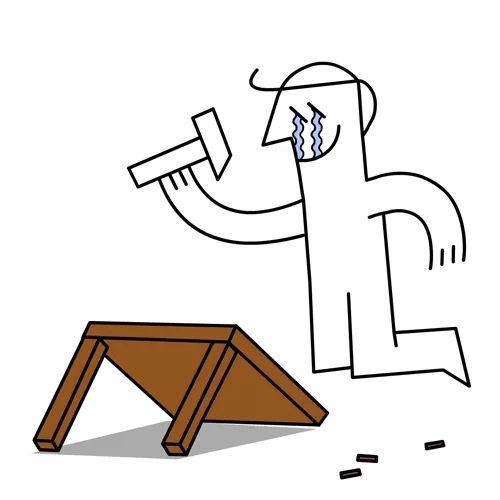 Ikea turntable…optimised for ABBA music.
OK, so I'm not terribly interested in vinyl, because it would require me to set up an area of my apartment just for vinyl and records, and I never really liked the sound of vinyl in the 80s on my cheap combo stereo system from Emerson.
But if I was interested, what's a good record player to buy that's not ridiculously expensive? What should I be looking for?
Waiting for the Techmoan or VWestlife reviews.
What's your upper limit?
Used SL1200mk2s aren't cheap, but there is no shortage of availability of parts, and they're damn solid.
Some assembly required:

Hard to improve on the commentary here but I will add that BB continues to intermittently post for sale in the BB shop Crosley based children's turntables that nobody, not even deaf people should buy.
One thing that stands out in the article is designer Carmen Stoicescu stating ""I never thought I'd work with producing a record player". There's two avenues of designing a truly good turntable: give it a very compliant and hard to engineer / manufacture suspension to decouple it from room vibrations like the Linn LP12 — or give it a ton of mass like the Technics SL1200. As a guy who owns both I can say that both designs work. That the designer has never designed a turntable before does not inspire confidence. On the other hand, it's spec'ed with a decent Audio Technica magnetic cartridge and it does look cool, though as someone posted "how the hell does a dust cover fit on it?".
timeless joy of the listening experience with vinyl records
If you like distortion, reduced dynamic range, higher noise floor, and fragile physical media, sure. Or you could run a lossless digital recording through some DSP and get the same character. Add all the hiss and pop you like. Can you tell I don't understand what people see in vinyl?