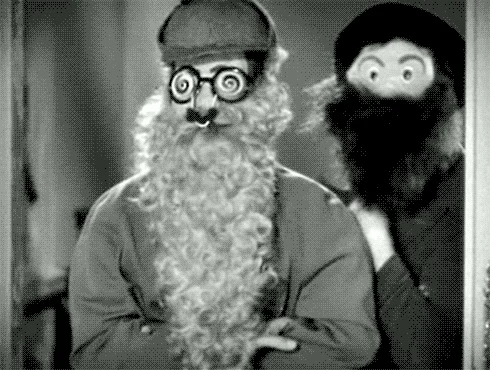 I was amazed to notice in the second video that the young man who got the "Plugging a book" gag was a young Johnny Carson! Someone calls him Johnny shortly after. I wonder which of his many wives was that with him? It's amazing how time flies. "Time flies like an arrow, but fruit flies like a banana!"
hello SPOILERS !!!
(the show should have accommodated playing from home by warning before giving it away so you could close your eyes)
Chico: "Hey, he thinks I look alike."
Groucho: "Well, if you do, it's a tough break for both of you."
(Animal Crackers)
Oh, gawd, yet another reminder that I have yet to find that one You Bet Your Life airing where Groucho shuts down an aeronautical engineer who was in the middle of explaining his work involving helicopter design!
It was fun, but my jaw dropped at the way the host and the panel had such an… uh… Cavalier attitude about smoking the sponsor's cigarettes.
This topic was automatically closed after 5 days. New replies are no longer allowed.