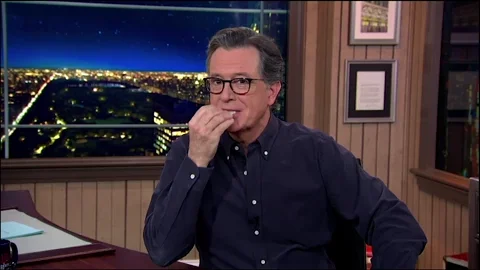 Maybe this is just me, but I might miss the A Late Show format when they go back to having a full studio audience… at least a little bit.
So Richard Marx is responsible for a piece of mail, but trump is not responsible for 1/6? What the f'ing F.
I don't see a way out of this any time soon.
They needed to get an impersonator?
Pretty sure they could just call Richard Marx and he'd do it!
I seriously thought that was him. Spot on.
very much agree… I've really enjoyed watching some of these hosts develop comically without the 'live' audience feedback. Especially the intimacy of Colbert's family crew. The awkward moments at the beginning gave way to something I personally warm to a little more. Was interesting to see the transition play out.
It is him in the images. The singer doesn't sound incredibly like him to me, except of course he's singing a RM tune.
I've taken to blaming Richard Marx for everything that goes wrong in my life, so for once I'm in agreement with Rand Paul on something.
I'm fairly certain it's actually him?
The YouTube page with the musical number credits Louis Cato for the singing… but it's a very good imitation. I wasn't quite sure when I listened to it, and younger me really liked Marx's music.
Yup, you've got it right!

Okay… I think the confusion is cleared up now…
It's good, but to my ear, there's a touch of R&B to it, which isn't in Marx's original work. (No idea how he sings these days.)
I think it was Mr. Caito in the beginning lyric's spoof, but Richard Marx in the video part with Stephen Colbert. Can't imagine an impersonator hawking Richardmarx dot com and albums, books and future appearances.
This topic was automatically closed after 5 days. New replies are no longer allowed.