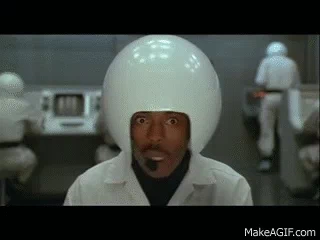 This. He's not the sound effects guy from Police Academy to me, he's the "There's something wrong with the radar, sir" guy from Spaceballs.
Also, I would subscribe with the fury of a thousand suns to a YouTube page of him covering songs a capella providing accurate instrument sounds, multi-windowed like you se amateur bands do remotely. One window for drums, one for bass, etc.
Your move, Bobby McFerrin…
Holy. Shit. I knew he was good, but that doesn't seem humanly possible.
He has the BEST moves. You only need to see the first 45 seconds to prove it.
You could fake or mix up the sounds afterwards. But the "wait, is this real, like in actually real and not dreaming?" expression of the guy behind the desk says it all.
Yeah, if it were another context, I would just assume it was a joke involving playing back pre-recorded instruments…
Uh, yeah, I never saw anything like that!
But he skipped the orgasm bit.
The greatest live performance in vocal history.
Find me a better one, I'll wait.
Notice how he avoids B, or is it B flat? That's the one that is on his right, our left. when he starts. Your 'leading note' (or is it?) seems pretty universal but it isn't. I sorta knew it, but seeing him hop over it bought it home.
Also, he's jumping on the piano keys as we see them, not as he sees them. It looks like a silly dance to get people singing but there is a lot there. Probably more than I have spotted. Like the guy behind him said "if you ever want a job in neuroscience…"
To me he's just flat out genius!
I think the trick is that he's giving the first two or three notes of a pentatonic scale. Human nature takes over from there – apparently something about the pentatonic scale is damn near universal.
Thanks for the intro. Hadn't heard of this guy and he is such a talent.
This topic was automatically closed after 5 days. New replies are no longer allowed.