Hd one of these. Can confirm.
Of course, I never thought it could hold my weight, but I guess they were worried enough kids did that they discontinued it.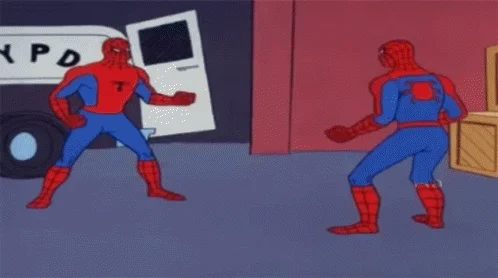 My web shooters were imaginary, and therefore better than this one. Much stronger. Could support more than the weight of toys.
Never had one, but the trash can lid that doubled as Captain America's shield for me worked just fine for blocking thrown dirt clods. It never bounced back after getting thrown, but that's probably due to the lack of super solider serum in my bloodstream.
That's one way to put it

One of my earliest lessons learned: toys are never as good as they seem on TV.
In reality you would have to fire the dart a few times to get it to actually stick to anything, and it will never stick to some things.
And don't get me started on Stretch Armstrong or the Six Million Dollar Man doll.
Has it ever been resolved, by a kalafi fight to the death between two comic-book-guys, whether spider-man's web abilities are the result of internal (bio)synthesis (Toby Maguire) or the far more toyetic strap-on (Tom Holland) variety?

You could whack your sibling good with that one. Maybe you could strangle them with the web shooter?
i swear i had this, but i remember it as being spidey blue, not red. anyway, fun enough for 9 or 10 year old me.
Did it work as well as in the commercial? Of course not. Did I love it, almost fanatically? Absolutely.
I was destroyed when mine broke… inconsolable almost. Thanks for bring up one of the most painful memories of my nascent consciousness!

It could have been worse. Grandma could have gotten you Oscar Goldman, the Six Million Dollar Man's boss, by accident. Catch up on paperwork! Chastise Steve Austin for going overbudget! Exploding briefcase to escape boring meetings! It's not just a job…no wait, it is.
Mom: Stop that! You could put your brother's eye out!
Kid: You bet I could, Mom, from 50 yards, too!
(shamelessly borrowed from a Daisy ad parody)
I'm a little disappointed to find that this is just a regular toy, and not some incredibly realistic simulation of Spider-Man's webs that was banned because it's made from asbestos and arsenic. That's more in keeping with the "forbidden toys of yesteryear" genre.
And all things Matchbox and Hot Wheels, other than the cars themselves.
Spring-loaded toys like that were abandoned in the early '80s because kids would take off the rubber suction cup, sharpen the hard plastic shaft to a point, and shoot it at their brother's face … or so I've been told.