But is he an Uber driver?
Essentially, yes. His full name…
Idrissa Akuna Elba

Too bad. I was hoping that it was a stage or Screen Actors Guild name.
Real names on social media the moment that they change all the credits in movies, TV shows, and porn flicks to real names.
Obviously there's the issue of being made to have a less 'ethnic' name as a performer, but it's also true that one of the Screen Guild's requirements is that no two people can have the same name. That part seems reasonable.
For me, my American experience would only be complete after eating a marshmellow. EVERY cartoon from the United States that I saw as a child had this scene of a group of children camping out, gathered around a fire, with these mysterious white things stuck on sticks. They had a hard time trying to translate it for local audiences. Was it a piece of candy? A fish sausage? The X generation never solved the mistery.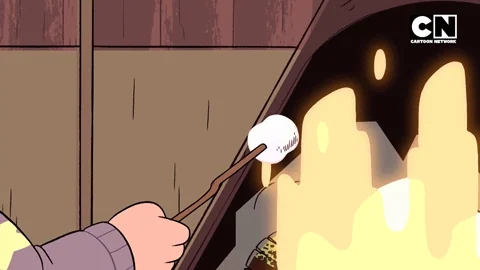 Sugar on fire; What's not to get?
Graham crackers and chocolate were a means to put said fire out.
But when we saw it on TV was mysterious. A white chunk of something white. Nobody translated/adapted it and we had to imagine what was the taste of a marshmallow.
When guests come out to visit (rural Indiana) we make a point of roasting marshmallows around the campfire – including vegan ones, so everyone gets a chance – and it is always a highlight. You'd think it would only speak to the hearts of those who remember it from childhood, but there's something about getting the brown/charcoal just right over a blazing fire that is almost primal and thus universal.
Right. Is it an egg? A giant larvae of some kind? A plant tuber?
Since fire pits were a hit during the great shut in we've made more s'mores than I care to admit.
Giant larvae. Well, technically their secretions.
Yummmm…
Hhahaha. The very first cultural shock.
https://www.thelocal.se/20210721/prison-officers-held-hostage-at-swedish-jail/
Two prison officers are being held hostage at a high-security facility near Eskilstuna in central Sweden, according to media reports.

Two inmates barricaded themselves in a room at the Hällby prison together with two prison officers at 12.30pm on Wednesday and covered the CCTV cameras, wrote the Swedish Prison and Probation Service in an email sent to the TT news agency.

"We are currently working on getting a clearer picture of the situation. The inmates are convicted of serious crimes but we cannot disclose what they are convicted of at the moment," wrote acting security chief Jörgen From Nordin.

He added that negotiators and a police task force were at the scene and described the situation as "frozen". "This is a very serious incident," he wrote.

Hällby, some 10 kilometres west of the town of Eskilstuna, is a class-one prison, the maximum security classification in Sweden.