Just what any parent wants on a school board: a bunch of easily frightened and panicked individuals.
"So why couldn't we read a book with a rainbow on it?" asked one disgusted parent, who also teaches in the district.
Wait until they read in the Bible about who created the rainbow!
"DO YOU KNOW WHAT THEY USE RAINBOWS FOR NOW, MISTER SUPERINTENDENT!"
"B-But it's the Bible!"
"WELL, JESUS IS A GROOMER THEN?! BURN ALL THIS FILTH! IMMMMEDIATELY!"
Don't worry. It's still okay to be a Brownshirt or a Young Pioneer.

"Tharp later received an email from district officials telling him he could also no longer read his book "It's Okay to Smell Good" (about a skunk)"
Because it shows black in close proximity to white?
If the right is so sure they are correct in their beliefs how can a single kid's book threaten all their God stuff. I thought Ol God was omnipotent yet their whole sky guy thing is threatened by some other shit in the sky, like rainbows. How can this be? And one precious christian objects so all the rest of the people are threatened. This is why they don't like democracy. They want things their way only and nobody has any rights over their bullshit religion. This kind of shit needs to be contested and fought. I don't want some god freak telling my kids/grandkids what they can or can't read or think. I suffered through that whole god shit as a kid in a catholic school. They poisoned me with self hate that I still fight. Now they're back at it again. Fuck them and the unicorn they rode in on.
.
Don't give up kid. We're gonna be the Ukraine to their putin.
Rainbows are referenced in the Book of Genesis. Unicorns are referenced in the Book of Job. Clearly the Bible is inappropriate reading for children.
(I mean, I'd probably be more concerned with kids reading about all that rape and incest and genocide but whatevs)
I hereby declare the competition open (no prizes, no judging - oh, is that allowed??)
More versions of that sentence, please. Gold achievement stars for all entrants.
… (your entry here)
"It's OK to Kill Your Son on a Mountain top if God Told You to."
I completely understand this decision. It's not really about unicorns. It's about all the mythological creatures that children might feel it's okay to be. A pegasus. A centaur. Maybe even a minotaur. Where does it end, I ask you? Dragons, it ends in dragons.
Suffering through genocide? Yeah, actually, that does check out - the eliminationist rhetoric from the right has become more common and blatant in recent years.
Being a public school I'll bet the Bible is banned there too.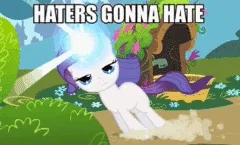 No Rain, no rainbows

!