I'm really tired of hearing about this hateful opportunist.
Something similar to Jan. 6th is going to happen again. Maybe at a state house or National Guard armory.
The only thing they learned from that day is "be more prepared and more violent next time."
And all the same people are riling them up over the Mar-a-Lago raid now.
Grifters gonna grift.
When they're not traitoring.
Thing is she raises a lot money for herself and the GOP. That's why she is still here. Although she did spend a lot recently on her campaign, she is still bringing the cash.
The treason is the grift.
Picture items with a Ghost Busters style logo consisting of the words "Terrorist Busters" with the crossed-out O in "terrorist" circling the Republican elephant.
For real! For someone who has accused many folks of hating America, she sure does seem to… hate America.
Politics have really seemed to go off the rails rapidly in the last 5 years. It's scary to think just how conservative Mike Judge was to paint 2505 as an idiot riddled society in his movie "Idiocracy". Hell, that's 483 years away! Can you imagine this country in only 10 years?!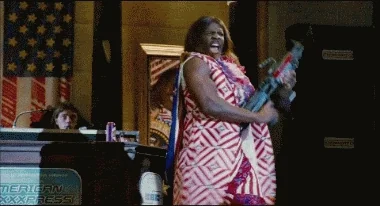 If she gets her way who is going to investigate all the pizza parlor sex rings?
She does not work for the government. She works for her constituents - or she should.
People in the bureaucracy work for the government.
Love it that the "back the blue," "America, love it or leave it," "disrespecting the flag is treason," "people who kneel aren't real Americans" crowd have now totally reversed all their positions just because [checks notes] the FBI retrieved some classified documents from someone who illegally refused to return them. Wow, it's almost as if Conservatism consists of exactly one proposition, to wit: There must be in-groups whom the law protects but does not bind, alongside out-groups whom the law binds but does not protect…
It's never "Please Defund the FBI", is it? Some people are just rude, aren't they? I won't be buying a baseball cap of her any time soon.
Yeah, I'm almost wistful for a time not long ago when our governmental representatives, you know, actually governed.
Her partner just tweeted this. I don't think she understands how the justice system works or the definition of coup.
The Dunning-Kruger runs deep within this one.
when was that again?
(/snark. i've been in a mood lately)
While that's possibly true, it's also true that "the element of surprise" is now gone. Jan 6 was shocking because something like that had never happened, and also the police on-site were not expecting anything like that and therefore unprepared, and also the National Guard were not deployed for hours.
I suspect that if the Red Hats try something like Jan 6 again, they'll be expected, the counter-action will be prepared and severe, and the guard/SWAT teams will mobilize immediately. They may be more prepared and violent, but it will be a suicide run, probably.
More like enema of the state.
This topic was automatically closed after 5 days. New replies are no longer allowed.