I didn't know The Warriors was a remake.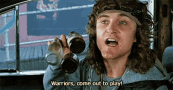 Wait, where do I know that music at the beginning from??
Oooh, I think it's "Wide Horizons/Ice Floe" by Pierre Arvay used in the credits of "Monty Python and The Holy Grail", but just played up-tempo a bit.
Did they have to add the annoying border? We get it, its and old film.
I kinda doubt the border was added…
"It's interesting to see the grim, dirty old New York of Taxi Driver ."
Or as I call it - home.
Yup, just a telecine artifact. Those are the actual sprocket holes for the film that was transferred. And if you watch the vertical lines on the right, you'll see that their size and texture varies with the audio… because they're the actual soundtrack of the film as captured on the filmstock. (In stereo!)
Isn't this one of the core problems with things like Milgrim's original experiment, that the nature of the shaped the outcome in predictable ways… similar to people playing to expectations, in this case that young toughs are gonna young tough…
I hope that was sarcasm. It had to be.
Mmmm…that title sequence just gives me retro shivers. Like visual ASMR
Here's another documentary from around that same time that follows the Savage Nomads and Savage Skulls gangs of the South Bronx.
It's well worth a watch.
In an interesting piece of hip hop history, Afrika Bambaataa founded what would become the Universal Zulu Nation by splintering off from the Black Spades gang to create something focused more on positive community activism. Many Spades left with him. Others joined from the Savage Skulls, Savage Nomads, and other area street gangs.
Watched a documentary about some of those gangs, and it talked about how they were inspired by the Hell's Angels, which is why more than a few gangs rocked leather or denim vests, and they had names like Savage Nomads. Was also neat seeing how the initiation lines morphed into breakdancing lines as they became a bit more enlightened (and found their own cultre).
I'm not sure what part you think was sarcasm, but all of it was 100% fact-truth. This is what cine film looks like outside of the frame, and I'd put money down that the sprocket images and soundtrack strip are from the actual footage that was scanned to generate this video.
I think you are right. The guy who uploaded the film says he has some kind of 16mm film transfer machine.
I know that when film archivists want to scan cine film, there's important details in the out-of-frame area that they want to collect. The leader often has text written on it that describes the film, sometimes in the maker's own hand. The sprocket strip has stuff like emulsion information and frame counts. The soundtrack strip can be used to synchronize and remaster the audio. So it would be pretty standard to capture the whole width of the strip if one were doing an archival digitizaiton.
Yah that original famous experiment is pretty discredited now. It's unethical to replicate it exactly, but people have replicated enough pieces and analyzed his data enough to know it was nonsense. People knew the victims were probably actors and the subjects were performing for him, is all. It supposedly showed "we're all monsters deep down when given orders" and supposedly explained how Nazi Germany happened, but that's nonsense.
So much of the core of psychology is, unfortunately, based on poorly designed small-N studies that don't replicate. We've realized that fairly recently and are starting to pick apart all that old stuff. Take the famous Marshmallow Experiment for example, which for decades everyone though meant poor kids are poor because they weren't taught delayed gratification. Turns out that experiment actually showed poor kids don't trust adults to keep their promises so they don't believe the scientist's promise of a second marshmallow.