well that is pretty terrifying
This is one of my worst fears. Got stung by hundreds of bees one time in summer camp. And the movies in the 70s about bees were terrifying. Plus I live in LA. Sigh.
I remember there was a Saturday afternoon movie on called The Swarm which was a little too scary for my age when I saw it.
Yes. Those made a big impression on me. Was there another called Killer Bees?
Sounds familiar - to the internets!
There are FOUR movies with that title - but this one is from the 70s.
The advice to run is spot on, if you're able.
I've never been attacked by bees, per se, but their more asshole gangster cousins, the yellow jackets, and if you just GTFO they seem to leave you alone. After 1 to 3 stings, if you're fit and in good shoes.
Fuckers.
The news coverage mentioned that a professional came out, suited up, and eventually (and regretfully) had to kill the bees. He mentioned that he hadn't seen bees behave like that before, but that something had really riled them up. I cannot help but wonder if they were Africanized bees, especially based on the area that they were covering. They were certainly doing more than simply protecting their hive…
Did the guy in the security car lock the other guy out? He seemed to head back to the car, and tugged on the passenger door. Then the driver just slowly backed away while he stumbled down the sidewalk.
That's cold.
Would you say it was unusual bee-haviour?
"Oi, you! Buzz off!"
From the coverage I watched last night, he approached the car but the bees were so thick that he stopped from entering the car so that they wouldn't swarm into the car as well. The coverage specifically mentioned him waving off his partner in the car before moving away again.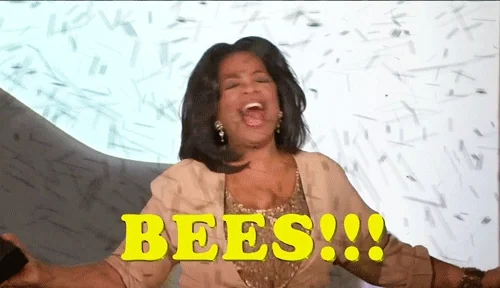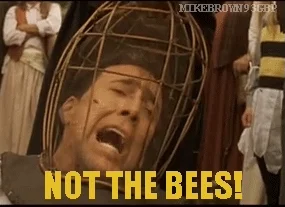 Bees' sensory experience of the world is markedly different from ours. For example, humans see the world through the primary colors of red, green and blue. Primary colors for bees are green, blue and ultraviolet ultraviolence.
All it takes is one sting to send me into anaphylaxis, so one or hundreds don't make a difference to me, it's all bad. Bees are generally fine and I don't mind then, but…
Bald faced hornets are assholes though. I encountered a nest in a wood pile and as soon as the first one took flight I sprinted for about 100 meters, stopped to catch my breath, and they followed me! I then ran another 100 m and that's when they stopped their pursuit.
I'm generally a live and let live kinda person, but since this nest was in an area I was working I had to get them outta there. I waited until nightfall when they were all back in the nest, metal bucket in hand I approached, snipped the nest off the branch, added a few drops of gasoline, then flame on!



Yikes! I can't believe they chased you so far! I mean, obviously I believe you, but that sounds harrowing.
My most recent instance was a couple years ago. I was finishing some renovations, tossing bags of debris down from the 2nd floor onto a lower porch to gather up. Unbeknownst to me, there was a wasp nest under that porch and they were getting more and more agitated as I threw stuff. By the time I went down to gather it up (in shorts, no socks, of course) they were in maximum asshole mode. I grabbed one bag, immediately got several stings on my ankle and bolted away. They didn't chase me too far, though.
Maybe the difference was, as I ran away I screamed loudly at a high pitch and flailed my arms. Have you tried that?


Luckily I'm not allergic, but that ankle was fucked up for a while. I couldn't run anymore.
I worked as a beekeeper one summer in university, and while I usually got around 1 sting a day, there was one day the other team had been by the site we were working at to mow the lawn, unbeknownst to us. The bees were PISSED! They swarmed us and we ended up running about a quarter mile down the road being chased the whole way. We thought we were far enough away and took our veils off (one had gotten my on the cheek when the wind blew the veil against my face, I wanted to make sure the venom sac was removed) and I ended up getting stung about 10 times in the head, while my crewmate was stung 4 or 5 times. It was not a good day.
I had the impression that he tried to get into the car but the door was locked by his panicking partner.