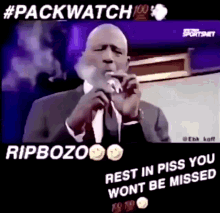 Whoopsie. And so shocking, after Putin told him "we're good bro."
I feel a little bad about finding this amusing. But only a little bit. A really little bit.
From the bbc reports:
" 1. Wagner mercenary group boss Yevgeny Prigozhin was on the list of passengers on an aircraft that crashed in the Tver Region, Russian authorities say"
What an extraordinary and unfortunate co-incidence.
NYT is declaring that the declaration of his death is still premature.
But Readovka, an account on the Telegram app that is known to be close to the Russian authorities, said that reports of Mr. Prigozhin's death were "premature" and that "Yevgeny Prigozhin may have been on a different airplane."
This is turning into another Lil Tay situation…
It would be more than a bit awkward for Putin. That's why for once I am inclined to trust Russian authorities.
With the state of their air industry having trouble maintaining equipment, it's probably a 60/40% split on the chance it was shot down, or mechanical failure.
Obviously this was totally unforeseen and should be regarded as accidental in the same way that polonium sometimes ends up in teapots
Were they, though? These were all Wagner guys. The plane was registered to him, too so the crew would be Wagner as well. In my opinion, their freaking cpa is complicit the atrocities in Ukraine and Africa. These guys were probably flying sorties over Syria a few years ago.
I mean, who doesn't leave their teapot by a cyclotron. Common mistake.
This would be the first time an ERJ-145/Legacy has had a fatality. They're notoriously safe planes and come with manufacturer warranties and service prepaid. And yes, the company is still doing the service for those owner / operators in Russia.
Oddly a door on the plane also accidentally opened and somehow someone accidentally fell out and somehow died of natural causes before hitting the ground. Life is so complicated and delicate some times.
Having processed my grief remarkably quickly, I'm left wondering what took so long, what actually happened in that coup(?) attempt, why Prigozhin imagined this could have gone differently etc. And then I'm annoyed at being made to wonder things that can never have a reliable answer.
I have a feeling it will be reported by Russian media as a NATO missile.