And now the cats know too much…
Step 1: Cats
Step 3: Profit
I bet it was all a scam for a CIA bigwig to bring cats to the office and get the government to pay for the food and litter. Some people can't stand being away from their passive-aggressive fuzzy buddies.
Video link for the BBS
https://www.youtube.com/watch?v=204KPdngifk
---
And my favorite telling of the story: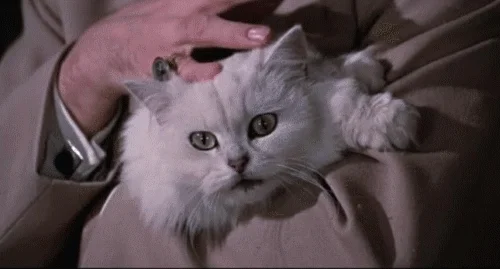 The CIA tried to train cats to be Cold War spies
Yeah, buddy, I can see your problem right there.
Do you want double agents? Because this is how you get double agents…
Methinks the cats trained the CIA to give them delicious snackerels.
Thinking you can train cats is the pinnacle of hubris.
I can see cats capturing the suave sophistication, sociopathic violence, and wanton alcohol-fueled sexual hedonism of James Bond. But the smooth and competent professionalism is probably not in their wheelhouse. So three out of four ain't bad and maybe they can bring in a collie to handle that fourth bit of the job.
Fucking, fighting and not giving a damn, sure. That's most cats.
Loyalty? That's a whole other kettle of fish (treats).
The first cyborg kitty spy got hit by a car on the way to its first assignment and the program died soon after that.
Oh, wake up.
The program was and continues to be one of the most successful initiatives in the Agency's history.

"Just play along Fredo, these dimwits have a huge catnip budget."
For The Outer Limits (1964) Harlan Ellison (et.al) wrote the screenplay Soldier, about a future Soldier who got thrown back into our time (an inspiration for Terminator (legally disputed) and a few others). The Soldier was frustrated that he couldn't "report" to cats in our time. Apparently cats were messaging conduits in the total war dystopia of approximately the year 3764 …so purrhaps this CIA scheme was pretty well known at the time?
Cats are smart, but folks keep mixing up intelligence with compliance. A dumb cat will find someplace to piss on that's easier to find while a smart cat will put a lot of effort into finding a difficult place to spot the urine that's also much more difficult to clean up.
Even if the CIA got the Einstein of cats for the task, it's just going to do whatever it feels like.