It is difficult to get a man to understand something when his salary depends upon his not understanding it.
Second verse, same as the first.
If we would just decriminalize all drugs, 90% of our criminal justice system would disappear overnight. And that would be a good thing, but it also explains why this won't happen.
Not only legalize, give it to addicts and offer help, not judgment.
Marijuana was the obvious one, but it's so weird to see psilocybin being set up to go next rather than cocaine. I guess all that "crack-baby" propaganda made it impossible politically? But the way people talk about the 70's and 80's, I would have thought there'd be a big pro-cocaine voting bloc.
Yes, the prison-industrial system is bolstered by prohibitions, and yes, it feeds corruption. These are definitely tremendous evils.
But I think the issues around drug legalization include more than the effects on the status quo institutions, and are much more complex and nuanced than how it's presented here.
While I am in favor of weed legalization on a Federal level (USA), we (USA) are only beginning to learn how legalizing weed impacts our society, and the outcomes are not all overwhelmingly positive.
Legalization and regulation.
Legalization and a commitment to mental health programs.
Legalization and a proper social safety net.
Legalize and also do something about the crisis of despair that leads to substance abuse and addiction.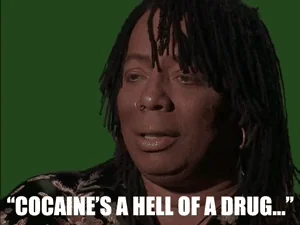 I was reading about what happened in Portugal after decriminalizing all drug possession, and the benefits (e.g. harm reduction) have been huge. With evidence like that, it becomes a hard position to argue against.
It wouldn't really "de-fang" the cartels, though; at least in Mexico. They'll just move onto the next exploitable resources.
exactly.
avocados, water, human beings…
Don't they already work with it?
three examples i could think of right away already being brought into the diversification of services cartels offer, so yes.
In Brazil, urban drug dealers still sell drugs. But they are also selling propane gas, bottled water, food and exploiting and oppressing poor comunities.
Maybe these crime cartels soon will turn into something like the Italian mafia.
facts facts and more facts.
Isn't that a conservative's wet dream? 90% of some governmental agency disappearing? and yet…
Biden will get Don Jr.'s vote.
The Economist: "Joe Biden is too timid. It is time to legalize cocaine"
did Biden legalize marijuana? i don't think so. it would be nice. (although some of us live in states where that's already extant) so a bit of a conservative clickybate head-line there.
The Onion: "Joe Biden is too wimpy. It's time to re-establish prohibition"