I remember playing this as a computer game, didn't realise they turned it into a story
Looking at Heston in the corner of that poster, I think they should have just gone full Mort Drucker.
ETA: I was able to identify all the men fairly quickly, admittedly most of the guys in the lower left simply as "the guys from Lost in Space", but quite a few of the women escape me. Perhaps I just don't know celeb women of the period ('69 to early '70s) that well, but I wonder if Drucker's caricatures are sometimes hampered by the urge to make certain women more "pretty."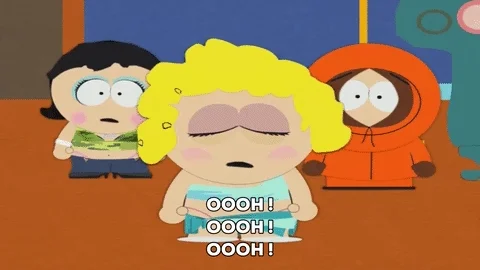 Current Bruce to past Bruce…
I thought this was great. Smart, moving, ghoulish funny.
The filmmaker's dad is a real sport to go along with all that his daughter puts him through, and that itself raises interesting questions.
Turns Out the Crypto Bros Who Bought Jodorowsky's Dune Book Aren't Sure How Rights Work
Late last year, a rare copy of one of the pitch books legendary director Alejandro Jodorowsky made to pitch his vision for an adaptation of Dune went to auction. Expected to sell for around $30-40,000, it went for around a baffling three million dollars , thanks to an ether-backed collective known as TheSpiceDAO. Now, they want to use manuscript to… make their own Dune .
[…]
There was a failed attempt to purchase the US constitution, and plans to transform Blockbuster into a future streaming service by similar DAOs, and now, there is SpiceDAO. The difference with SpiceDAO's plans to these, however, is that they suddenly think spending three million dollars just means they own Dune .
[…]
Except, of course, Jodorowsky's Dune is still Dune , an adaptation of Frank Herbert's iconic novel. Purchasing a book of storyboards—one of several in existence, even if that number is low—and expecting that to transfer the rights to those storyboards, or the story itself, would've been like whoever purchased that copy of Amazing Fantasy #15 last year expecting they could go to Sony and direct Spider-Man: Are We Still Doing Home Puns ? .
[…]
Any project that came out of SpiceDAO's purchase would have to delicately tread the line of homaging not just Herbert's work—and now the work of a major Hollywood studio in Warner Bros.—but the legal rights of Jodorowsky's estate, Moebius' estate, and others involved in the original pitch itself. But then why would SpiceDAO need to purchase Jodorowsky's pitch bible to create something simply inspired by Dune and the aesthetic Jodorowsky and his collaborators envisioned, if they were so intent on creating an original work?
Perhaps, the answer, is that you couldn't run an ancillary grift of getting those crypto enthusiasts who supported the bid in the first place to invest in your own Dune -themed cryptocurrency that way, could you? After all, the spice must flow one way or the other.
Bonus Melies:
Alejandro is still alive!