I guess there's no fun to be had when it's just a circle jerk and no Libs to "own".
I guess when your only fun is harassing normal people it's less fun to be around like minds.
Sad.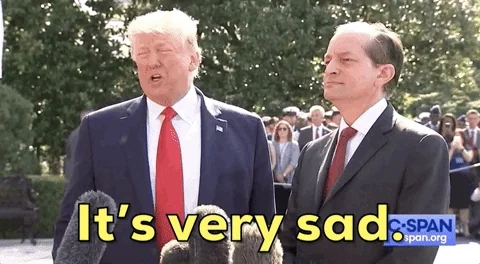 I really wanted to sign up to give them a lib to own but I ain't swapping out my perfectly good android phone to play.
The app is only available for iOS devices and you can't access it on a PC or Mac.
You would think after 5 weeks and millions of dollars they could solve that problem. As a matter of fact you would have thought they would have entered the game with everything ready to go.
Even they can't stand to be around their peers.
Perhaps all the dumb folks have signed up, hence the drop in new signup. Which could suggest there is a limited number of them. (Not hold my breath.)
There are only so many right-wing suckers under age 50 out there who'll sign up. The bulk of Biff's supporters, like Putin's, are older people who rely on television news for their propaganda fixes. They also prefer to get fleece by buying the scammy products and services advertised on outlets like Faux rather than through newfangled digital methods.
I wonder how many of those initial registrants were leftwing reporters and bloggers, signing up just to see how cheap and fragile the coding and design was?
THat means paying money to people who actually know how to do stuff. That is not the Trump Way.
Maybe the brain-trust behind Truth Social realized that they love to see the hate-spew on other sites but on theirs, THEY are responsible for content and THEY could face serious federal charges once it gets out of hand.
Along the same lines of… I wish institution 'X' would blow up… I won't do it, but I'll gladly encourage someone else to take that action.
So hardly anyone seems to be interested in the Truth™. Especially when it comes from Donald Trump. That's a big surprise.
Going to Trump for "truth" is like going to the ayatollahs in Iran for ham sandwiches.
Don't keep it to yourself, share with the rest of us.
The stock of the SPAC is way off its high, and is already down 7% today. That said, it's still just about $60/share (as of this writing). Just what's holding up this house of cards? Is it that there are enough investors gambling on this being "yuge" & that Trump really means it, this time?
The shares are up nearly 550% from a debut last year amid heavy demand from retail investors. Still, there's been little detail for investors regarding how Trump Media plans to operate. The latest plan has been for a social network, news channel, a streaming service and eventually a cloud-computing platform.
If this was the garden…
Well if this doesn't work out, Devin Nunes can focus on his investment in a winery owned by a Russian oligarch.
Now I wanna paint the side of a van with that.