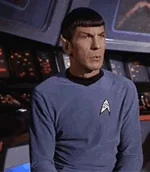 We need a whole sub-genre of Star Trek themed AMSR videos…
"Unboxing Spock's ears" I seen whatcha did there, eh?
Was there a tag inside:
"Boxed by #5"
If you place these on the ears of a binaural dummy head, then you've really got something.
I hear

ya.
Yeah, you'd think that would be an impossible act.
I recall, as a kid, watching a behind-the-scenes television show about Star Trek that was hosted by Leonard Nimoy. He showed a pair of ear tips displayed in a clear box against a black background. I wonder whether this is the very same pair.
I pray that people got that.
"Left ear, check. Right ear, check. Wait, something is missing! What about the final, front ear?"
The family donating these items to a museum for the good of the many was indeed the logical choice.

This topic was automatically closed after 5 days. New replies are no longer allowed.