Sure, it's satire, but in 1997 it also formed the basis of an entire cadre of Internet industry hypesters and hangers-on who spun a combination of business and technology jargon into a multi-million-dollar industry.
Speak for yourself! With turbo retro encabulation, my side-fumbling has been effectively eliminated.
Ah, it sounds like it's been a win-win synergy of cost-benefit efficiencies, no doubt due to to the innovative and novel intellectual property element of the unobtanium-treated phologiston pumping mechanism.
I feel like he is this close to breaking character. Say through a recent "training" on a new release of a product by a large software company and all it turned out to be was a sales demo, not unlike this. Less jargon but no more informative.
This is a classic example of a narrator using an ear-prompter, and this particular guy is one of the best I've seen using this technique. Essentially, there's a recording or a producer on a microphone playing the exact words and intonation to the narrator via an earpiece, and the narrator "simply" repeats what he's hearing. I put "simply" in quotes because using an ear-prompter is something that not many people can actually do — repeating what you're hearing half a second or so behind what you're hearing. A former colleague of mine used to work with this guy in Ohio and we'd use this recording as an ice-breaker when we were training non-media types to do on-camera presentation.
You point this out as though the retro-encabulator isn't an endlessly renewable font of joy. Which it is! It should be reboinged MUCH more frequently than every 17 years.
We've come such a long way from the old Interocitor with Heterodyne Framastat.
Agreed! I shared this far and wide back then, and those same people are about to get it in their inboxes again.
17 years is pretty good. A record re-boinging interval?
Technically reaching the "once a generation" standard, which is scary enough to consider, in several dimensions.
I think I prefer the original turboencabulator video. It has the nice VHS distortions at the top and bottom, the added snipe at the government waste, and the director breaking character at the end.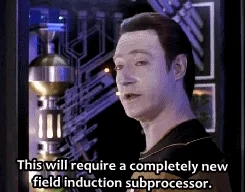 Cookie Monster did it better.
I couldn't make it all the way through the video, too much technobabble! But I am really, really curious: what does it do? Can anyone explain it in a way a 5 year old could understand?
It encabulates. Don't you know the crudely conceived notion?
Ahhh, yes. An old favorite. "Crudely conceived," indeed.
There's another film with a similar script touting the latest in automotive technology.
And don't forget about flux capacitor.