No wonder his place is such a sty.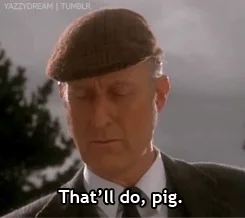 I like particularly how the pig looks up at the vacuumer each time as if to say "yo! have I not explained this to you before?"
That's super cute but I worry the lil fella's gonna get shocked one day!
It's going to be a bit more than annoyed if it chomps down too hard on that cord.
Reminds me of one of the jokes they cut from Spider-Man: Into the Spider-Verse:
"The way that scene [originally] went is Noir said he lost his Uncle Benjamin, Peter lost Uncle Ben, and Gwen lost Peter. We went through everyone. Spider-Ham said he lost his Uncle Frankfurter. And then he said, 'He was electrocuted, and it smelled so good…'"
Truly delightful creatures
It's clearly time to stop cleaning and go make lunch. Maybe a delicious BLT. mmmm, bacon!
I'm now curious to see what would happen if they got a Roomba.
This topic was automatically closed after 5 days. New replies are no longer allowed.