Just wait until next summer's heat wave and see what happens.
I do this for deer. It helps keep them away from the garden.
For people? That's just mean spirited.
What's the point of sinking so much land and water resources into a patch of grass that seems to exist solely to exclude others from walking on it? It's not like it's a carefully landscaped topiary or something. Just put up a hedge or a picket fence if pedestrians bother you that much.
Also, I don't know if this was intentional or coincidence but it's kind of off-putting to see footage of Black people getting hosed accompanied with a soundtrack called "Monkeys Spinning Monkeys."
Came to say the same. From the shot, I would have no idea that was a "lawn" and not just another patch of municipal grass devoid of landscaping. There are a lot of less vindictive ways to stop people from crossing your lawn, and some of them have the added benefit of supporting pollinators and birds.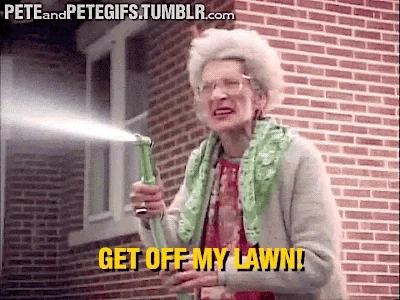 Seems like a declaration of war. Maybe plant something battery-operated like this in his front yard, around 1am, and let it and the sprinkler go at each other for a bit.
When I lived in a first-floor apartment in Brooklyn, I found the most effective method of keeping people from hanging around outside was John Zorn's Kristallnacht at high volume.
It is a private space and people aren't showing respect for that. And if someone trips, you get sued.
A fence along one length would solve the problem.
But one's domain is sacred and none may trespass! /s
This is the douchiest possible solution to a problem. Especially the alarm- I mean come on. If you have a corner lot, people cutting across it is part of the deal- things like this are part of living in a city with other people. The lawn doesn't appear to be suffering, other than that one patch on the corner, which will be part of the city's easement for a future sidewalk anyway.
A fence is of course the neighborly solution, and it doesn't have to be a big one. Something as simple as those like 1-foot-high decorative garden border pieces is all it takes to discourage this.
I'm on a corner lot and people cut across my lawn all the time. My solution? Wave hi to people on the way by because people are nice. Sometimes I offer them apples off my tree because I don't always get them picked before the squirrels get them.
Edit: it's worth noting that almost all the footage in the three videos is the same footage. So this "people keep cutting across my lawn" problem may in fact be "it happens once every two months". Also, spraying old ladies who can't run out of the way? Fuck you, Suburban Rand Man.
Came here to say the same thing as most everyone else: this person is an a-hole, they should put up a fence or plant a hedge if it bothers them so much.
That guy's stupid lawn and even dumber sprinkler/alarm combo are just crying out for a huge flash mob of people to come fuck with it.
But they touched his PRECIOUS LAWN!!! THERE IS NO HIGHER HUMAN RIGHTS ABUSE THAN TO TOUCH A MAN'S LAWN!!! /s
When you play the game of lawns either you win (by having no unauthorized person touch it) or you die (when they steal your apples)! /s
But seriously… all this. Who cares. People need to get over themselves. It's one thing if people are doing shit like… I dunno, driving their car across your lawn… but if some folks just happen to meander across it, who cares?
The nice solution to this problem is to build a sidewalk cutting across the lawn. People will follow that and you won't have to worry about your precious grass
Came here to say the same. But that assumes you give a crap about people instead of just seeing them as content for your TikTok channel.
i have one of those sprinklers to discourage cats from pooping in our yard, but i rarely ever use it. this seems like such a dick move. why not put up a fence if you hate it so much? i'm fully expecting people to come and dump a bag of road salt on his yard, or surreptitiously spray it with white vinegar one night, spelling out something about him in two-foot tall letters.