We've stopped buying 2-prong anything so we're never at a loss for tools/etc. But it looks at least like a duke.
So, is mark going to make his own J Peterman catalog?
I have an 50 foot extension cord from the 70's, the outer surface consists of 99% electric tape, I refuse to discard it.
Might want to aim an infrared video camera at it when its under load sometime…

Dunno about your area, but in my city the FD reports that more than half of the structural fires are caused by electrical problems, such as worn extension cords.
When my Army unit was decommissioned, there was a huge pile of stuff the quartermaster couldn't account for, so we were all allowed to take whatever we wanted. I scored two awesome cots and a 100' heavy-gauge cord. It eventually was partially buried in our yard to carry power to the garden bar lights where it lives to this day. We moved out this spring and left it behind, but I wonder how long it will remain in faithful service, just below the surface.
It's the 12 gauge yellow cords at 100 feet.
I used to have one of those on a reel, but its usefulness petered out and I left it to rot in the front yard.
Now I have the two-pack of Costco 12 gauge 50 foot grounded yellow cords. They don't cost much and they're quite delightful.
Because, face it Granddad, a 100 ft 16 gauge two-prong cord doesn't have many uses.
Outdoor Christmas and other hanging lighting, which tend not to be grounded, I'm thinking? Gonna be nearly 1/3 lighter without the unneeded 3d conductor - not that I'd buy one of these, though.
The optimistic 10 amp rating fails to note the voltage drop for 100 feet of 16 gauge.
"you can pick up here for a song."
That song is called 'Burning Down the House'.
I read the headline quickly and casually and misunderstood that it was something about Prince´s guitar.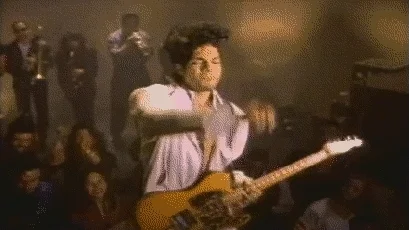 Well played.
(Ba-doom-tish.)
(But that would be a power chord, of course.)
I didn´t pay much attention when I read it, I think I saw a H there. Then I saw the illustration and thought: "Oh, it is an ad for exquisite and expensive guitar cords made by the Prince estate".
Sounds like someone needs to be brought back down to earth and be grounded in electrical safety. I know the US has a loose relationship with electrical safety (something that bites us here in Australia with imported equipment), but that is taking things too far.
My "old" trust heavy duty extension cord has a 15A rated cable (1.5mm²) but is only fitted with 10A plugs. In the civilised world (i.e. 230V) that's plenty.
What is it about these latest thinly-disguised-advertisements with product photos that look like they were scanned from a newspaper straight out of 1965? We have color photography now and no longer need halftones.
Extension cords are typical of the kind of thing you shouldn't buy from Amazon. You can get one for less, with a better chance of having been inspected/approved by someone other than Mark's granddad and a lower carbon footprint, at the local hardware store (though I doubt they even sell 100 foot/16 gauge cords, those are dangerous AF unless you are just using it for LED Christmas lights or some such).
I assume that it would add a few bucks to BOM cost, and is thus inconceivable outside of the same market that pays several hundred dollars for a power strip if you give it rack ears and call it a 'PDU, barring a code change; but it'd be really nice if extension cords and power strips included a breaker set to trip if you exceed their rated current.
I'd be even nicer if the rating was honest and nobody took advantage of the fact that using a breaker that doesn't work saves money and lets you put higher current rating on the spec sheet; but not holding my breath for that to hit amazon.
Well, there is one of the advantages of 240 volt power. Your 10A plugs can transmit 2400 watts of power at 240, and The Prince 10 Amp extension only 1200 watts at 120.