Did not last as long as You Can't Do that on Television… I didn't remember it, either.
I've listened to a lot of DEVO but unless you'd told me that was a cover of Mongoloid, I'd have never arrived at that conclusion on my own.
I used to watch it, I probably saw most episodes. I guess it came on at a time I could watch tv alone at my grandparents' who had cable. it was a clip show, seemingly compiled from any english-language media they could get for the lowest cost and which might not have been for children, but not overtly serious or adult. or maybe it was mocked-up to seem that way but I guarantee you a lot of the stuff was not Canadian in origin.
so you had to kind of hate-watch it. so much of the clips were the worst garbage you've ever seen, but it reliably had funny or bizarre stuff, too. the turkey animations were pretty good and it had a short, catchy tune to them.
If kiddo you thought that, no wonder if only lasted a season. Sounds like a pale imitation of You Can't Do That on Television which was a great show.
I didn't think I knew the show until I watched the intro with the blues singer and the turkey which burps at the end of the song. Then I remembered it. It and there was some other Nickelodeon show that had a wizard and a talking magic book that would occasionally show underground animation (only reason to watch either) to fill up most of it's runtime. But yeah, Turkey TV was mostly terrible.
This episode of Nick Knacks fleshes out the history of the show:
It's also where I first saw this music video, and immediately pegged it as a DEVO rip-off.
While it's a pretty clear rip off, I wouldn't call it a cover. And the original artist is active in the comments on the video, discussing it as an original piece, and acting flattered at the DEVO comparisons.
You Can't was awesome but TT didn't have a recurring cast, just animations of Thurman T. Turkey in between random clips.
You Can't was an unabashed rip-off of Laugh-In with a juvenile cast. but it was a vibrant imitation, not a pale imitation.
Absolutely. I wonder how many kids who watch Nick today known the origins of the green slime… Do they even have to say I don't know to get slimed on the Nick awards now? Bunch of posers…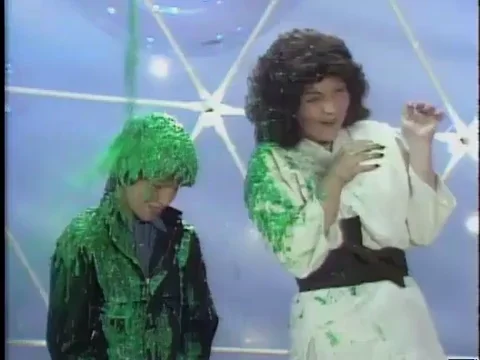 This topic was automatically closed after 5 days. New replies are no longer allowed.