I can tell you what someone knowing their Myers-Briggs type tells me about them
ETA: Not directed Jennifer, who obviously gets it.
Interesting that you get the same result every time. Almost everyone I know switches if they wait a week and take it again
Apparently I'm dissolving into moon dust. See y'all later!
At horrible corporate meetings the HR…person insisted that we take these things every !@#$ year. (i always came out in ISTP introverted nerd land) So in a fit of pique one year i answered the exact opposite of what my tendencies would be and landed smack-dab on top of the CEO's proud designation. And thus i was 'rewarded' for my perfidy by having to sit next to the greedy @#$ at the obligatory Christmas event. That is: i hate these @#$ pigeon-hole the human things!
Wish I could find the results from me doing this with my kids, but I know my daughter insisted that the test exactly captured her. However, she also has taken the Harry Potter school test and feels that the sorting hat exactly captured her too, so there's that.
If you do 9 3/4 of the Myers-Briggs test do you get your own owl? Studies are still out.
INTJ: "The Nerd Emperor" – Instead of taking the Myers-Briggs test, you'll write a lengthy Medium post explaining why you refuse to take the Myers-Briggs test.
HA accurate.
I have taken so many of these over the years I think of them in terms of averages. What I learned: how I perceive myself depends on what I need to achieve at the time and how I think I can best accomplish it.
Ugh…Myers Briggs, DISC, the four colors, the Enneagram…I've spent far too much time in "company retreats" over the years wasted on these useless attempts at pigeonholing. I guess the Team Building consultant industry needs something to hang their hats on.
My stepfather was a Jungian psychologist and he loved giving these tests to his patients. I think I took my first MB around age 14 or so along with several career aptitude tests. I was supposed to be either a librarian or a Marine.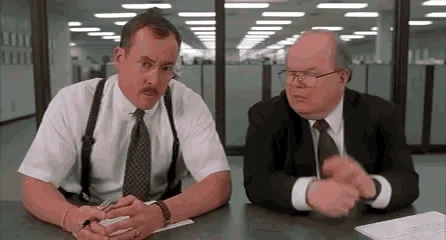 My Myers-Briggs Test told me personality type is INRI.
Jesus Christ! That's a great score!
IMO these can have some use so long as their analysis is limited to:
People think differently
This is a good thing
Finding ways to make the team work and communicate better are valid and valued work activities
Man, I hope you became a Marine Librarian. That sounds totally badass.
We could drop you guys into the book-banning red states.
Taking care of wet books sounds challenging.
Business astrology is for entertainment purposes only, like any astrology. But some people invariably start taking it too seriously.
I always thought those kinds of tests were more for how to interact with people. As a general insight into how people think and maybe a few of their quirks, i personally find it useful.
If they actually told you anything real, yes that would be useful! Unfortunately, there is no there there
Well, anecdotally at least, it definitely identifies several of my non-obvoius traits, and i feel like it helps me explain myself to others better.