I admire the dedication a cosplayer must have to wear pumps all day at Disneyland.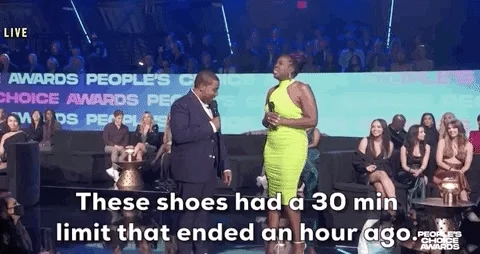 Peggy Carter Disneyland? Is that a drag name?
That was sweet in a very nice way.
That's a nice interaction between a couple of strangers who know each other in another life.
Selfish complaining follows:
Putting a hypertext link to the media would help people like me who have browser privacy settings that prevent social media from playing inline. Since the tiktok video does not display for me (my fault of course) the only links I can follow are the ones provided to the tiktoker's stream, the music, the hashtags. Fortunately the subject video was easy to find in this case.
That was awesome but when cap struck his pose he yoinked her out of her Key Light
That was nice and generous improvisation on the part of their Capt America.
Nice costume, but I thought adults couldn't cosplay as characters at Disneyland. Or did it fly under the radar if it is mundane enough?
Interesting that they let her in; I thought Disneyland had some kind of restrictions regarding adult cosplayers because they didn't want to get in a situation where guests were likely to be confused with actual meet-and-greet characters since that could go downhill really fast. (For example, imagine if someone walked into the Avengers campus in a screen-accurate Captain America costume and was subsequently recorded making sexual innuendos at other guests who asked for a picture.)
That's 100% correct. My partner used to work at WDW and they got into a situation where a college aged girl was trying to enter dressed like a princess and had a full on meltdown when they weren't allowed in.
It's okay for kids to dress up, but anyone who can be mistaken for an actual disney cast member it's a no go.
They do have several days where costumes are allowed.
I doubt they would have let in someone dressed as Captain Carter from that one multiverse where she got the serum, but Peggy's normal outfit is close enough to regular clothing that I wouldn't have necessarily made the connection to that character. Plenty of people dress up in retro mid-century style clothing and makeup there every day.
That said, sometimes guests who know about the rules sneak in costumes and change once inside the park. I once saw a guy dressed as Jack Sparrow and greeting guests in character get escorted out of the park by security. He had changed into the costume and put on the makeup while in a restroom on Tom Sawyer Island.
There are some gray areas as well. People have written entire blogs about how "Star Warsy" you can dress and still be let in to go hang out in Galaxy's Edge. BB posted that story a while back about the couple that had their honeymoon there and they played poker with cast members and all that, all while cosplaying. It boils to small details- asymmetrical vests, a torn sleeve, a futuristic pin stripe here or there, that sort of thing. Not an in-universe character, but dressed recognizably in-universe. Peggy Carter kinda lands there, even though she is technically a character in universe.
This topic was automatically closed after 5 days. New replies are no longer allowed.