1964 meet 2021 Los Angeles freeway drivers, and buckle up kids it's going to be a bumpy ride.
This is at least something where we have improved. My mother told me how they drove with 200kmh over country roads in the 1960s, tipsy from partying. Road accidents per km has gone down by orders of magnitude.
You will notice he steps into the US embassy at the end of his trip.
The car windscreen was the first step towards the modern internet:
putting people in cages has the effect of turning them into animals. it's anecdotal, but it's pretty commonly said, depicted in culture; films, novels etc.
usually we think of it in terms of jail, being forcibly put in a cage. but the psychology seems to affect people the same way if they put themselves in a cage. it would just be sad if it weren't so dangerous.
you do it to yourself, and that's what really hurts…
I'm loving his 2-tone ice-cream coloured MG tho.
You'll notice the parking space was stolen from the standard Austin 1100, and his was the MG 1300 version of the same car (plenty of badge engineering even in those days) so of course he thought he was superior.
He was lucky that wasn't John Cleese's red Austin 1100 he nicked that space from!
(My dad had the Wolseley 1300 variant. I technically wrote it off but they didn't discover the bonnet no longer fitted until they came to put it back after the wing repairs, by which time they had to finish as the insurer already had a lot of sunk cost in the repair. The impact had slightly bent the front chassis and it needed buffing back to square to get the bonnet back in. If they'd known it to start with, they'd have written it off, for sure.)
(Bonnet = hood for USanian readers.)
ETA Of course, Basil Fawlty's was a 2-door version of the 1100. The lady in the film was driving the 4-door version.
Oh, I know BL badge engineering, alright. I've had time in most of the land-crab variants.
(Well, I knew YOU knew. But it was for everyone else.)

A man on his own in a car
Is revenging himself on his wife;
He opens the throttle and bubbles with dottle
And puffs at his pitiful life

She's losing her looks very fast,
She loses her temper all day;
That lorry won't let me get past,
This Mini is blocking my way.

"Why can't you step on it and shift her!
I can't go on crawling like this!
At breakfast she said that she wished I was dead –
Thank heavens we don't have to kiss.

"I'd like a nice blonde on my knee
And one who won't argue or nag.
Who dares to come hooting at me?
I only give way to a Jag.

"You're barmy or plastered, I'll pass you, you bastard –
I will overtake you. I will!"
As he clenches his pipe, his moment is ripe
And the corner's accepting its kill.
— John Betjeman, "Meditation on the A30"
This is true. There may be way more cars on the road now but the roads are some of the safest they've ever been, at least on a statistical metric. You also have to account for how ridiculously safe modern cars are compared to the non-crumple death traps of years past.
Also non car road users have been driven off the roads by car volume. And, crucially, drink driving is no longer tolerated.
Behaviour like that wouldn't be accepted now. They wouldn't stop and block car traffic. He'd pullover to block the cycle lane and pavement, but not cars which have precedence above all other road users.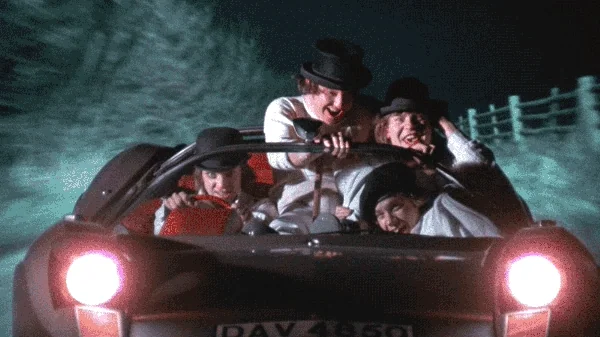 That's nothing compared to driving through downtown Rochester, NY (the unofficial road rage capital of the northeast)
@beschizza
I've always found something comforting and normalizing around the English narrators voice:
This topic was automatically closed after 5 days. New replies are no longer allowed.